With the overwhelming amount of apartment communities popping across the country, finding the perfect apartment can be quite the undertaking. Fortunately, with so many options, you're afforded the luxury of choosing a multi-housing community that fit's your needs perfectly. The difficult part is knowing where to start and how to go about making sure you find the apartment of your dreams. There is a simple process to follow to ensure that you aren't stuck in a lease with the apartment of your nightmares. Here are 5 easy steps to finding the perfect apartment.
1. Set a budget and stick to it
It's all too common to get shiny object syndrome and move out of your budget range; setting you on a course for a lifetime of living paycheck to paycheck. It's truly not worth a lavish apartment if you can't afford it. Eliminate everything that doesn't fall into your budget range. The saying always goes: "Rent should be no more than one-third of your income." By setting standards and understanding your monthly budget, it will eliminate the worry of whether you'll be struggling to make rent month after month.
2. List what's important to you
Make a list of items, features, and amenities that are important to you. List them in order from most important to least important and make sure to mark any essential items. Eliminate any properties that don't have any of the items on your list marked as essential. Listing out what is important to you is a critical step in the process — it allows you to easily cross off apartment community options that don't fit your needs.
Sample List
Allows pets **
Dog park *
Close to work **
Fitness center **
Hardwood floors
Modern fixtures and appliances
Near shopping centers
Garage for parking and storage
Pool and Spa
Scenic views
3. Do your research
Use a website like Apartments.com or Rent.com to find all apartment options in your desired area, budget range, and that have the essential features you're seeking. Make sure to SAVE or STAR all of your top choices so you can keep them all in one place.
1. Look through the photos — Apartment photography allows you to eliminate anything that doesn't fit your style or any places that you can't see yourself living. It also helps you find the ones that you like the best! Note: If a community doesn't have professional Real Estate Photography, it's likely not a place you want to live. They are either hiding something or just plain don't care.
2. Research amenities and features — Look through an assortment of apartment virtual tours to provide a virtual walkthrough of each community. An apartment community 360 Tour can help you get a feel for its features and amenities before you ever step foot on the property. Aerial Photography can provide a bird's-eye-view of the multi-housing community layout and surrounding area.
3. Read reviews — The best way to find out if you really want to live at a specific apartment or multi-housing community is to read reviews from past and current tenants. For the most part, you want to make sure that management is attentive and the quality of the community and units themselves are as advertised.
4. Visit each property
Make sure to schedule walkthroughs prior to arrival. It will help you move through your property visits much faster — don't get stuck waiting for a leasing agent.
1. Check everything — Beware of cheap appliances, surfaces, and fixtures. Check for rodent or insect infestation, particularly in cupboards and storage spaces. Examine walls and surfaces for any type of damage.
2. Ask about incentives —  Most apartment and multi-housing communities offer move-in specials year round to entice new tenants to move in. Don't hesitate to ask what the specials are.
3. Don't sign anything — A majority of apartments will try to get you to put a deposit down and sign right away. Politely tell them that you would like to review all of your options first. Sometimes this will even help you get better rates and incentives.
5. Review your options
List out your top apartment or multi-housing community options and go back to make sure they fulfill your requirements; eliminate any that don't. Finally, make sure to go back through each community's content and media: Websites, brochures, Aerial Photos, 360 Virtual Tours, and Apartment Photography to find the one that you can best envision yourself living in and loving. Once you've done your homework, it's time to choose the apartment of your dreams!
For the latest tech news and trends, Aerial Photography service updates, 360 Virtual Tour projects, incredible HDR Real Estate Photographyimages and much more, make sure to follow our blog: https://invisionstudio.com/blog/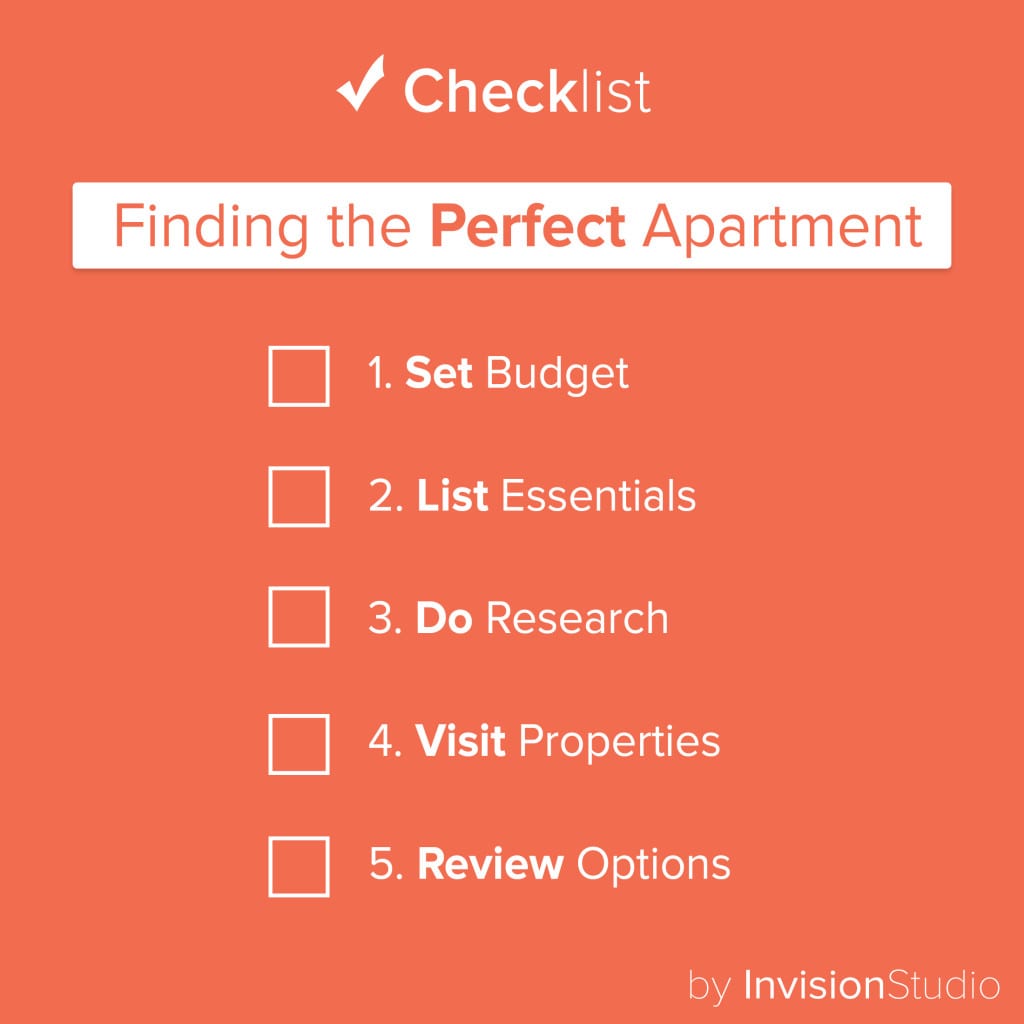 Tags: