The Internet has boosted our visual culture — and it's enhanced the possibility of creating a relationship between a consumer and its surrounding environment. The potential to create a connection between home buyers and a listing is imperative in today's real estate market. Visual technology is now becoming a critical tool for facilitating real estate transactions.
The modern digital consumer ultimately expects a truly engaging experience through visually compelling products equipped by companies that thoroughly understand the user's needs of today and tomorrow. Immersive 3D Visualization technology such as Invision Studio's 3D Tours powered by Matterport, reduces consumer insecurity — decisions are easier to make and more informed — and browsing a space digitally from a couch is quite frankly more sustainable than traveling to see it.
3D Tours: Welcome to the always-open house.
VR 3D Tours win more real estate listings with a seamless innovative online marketing approach that transports home buyers into listings and lets them explore them as if they're really there. It essentially becomes a 24/7 Open House from anywhere across the globe. Home buyers will create an immediate, lasting emotional connection to properties because they can experience it as if they were really there in person.
Constantly engage buyers
Matterport 3D Tours are easy to share, so anyone with a computer or mobile device can have the open house experience, making it easier to engage more home buyers from anywhere.
Build buzz
Generate momentum like you wouldn't believe before the first open house with state-of-the-art visual marketing that captivates buyers and motivates sellers. Invision Studio 3D Tours powered by Matterport 3D Spaces can instantly generate new business and increase sales for brokerages, agents, and real estate developers.
VR 3D Tours: For Brokers
Attract and retain the best real estate agents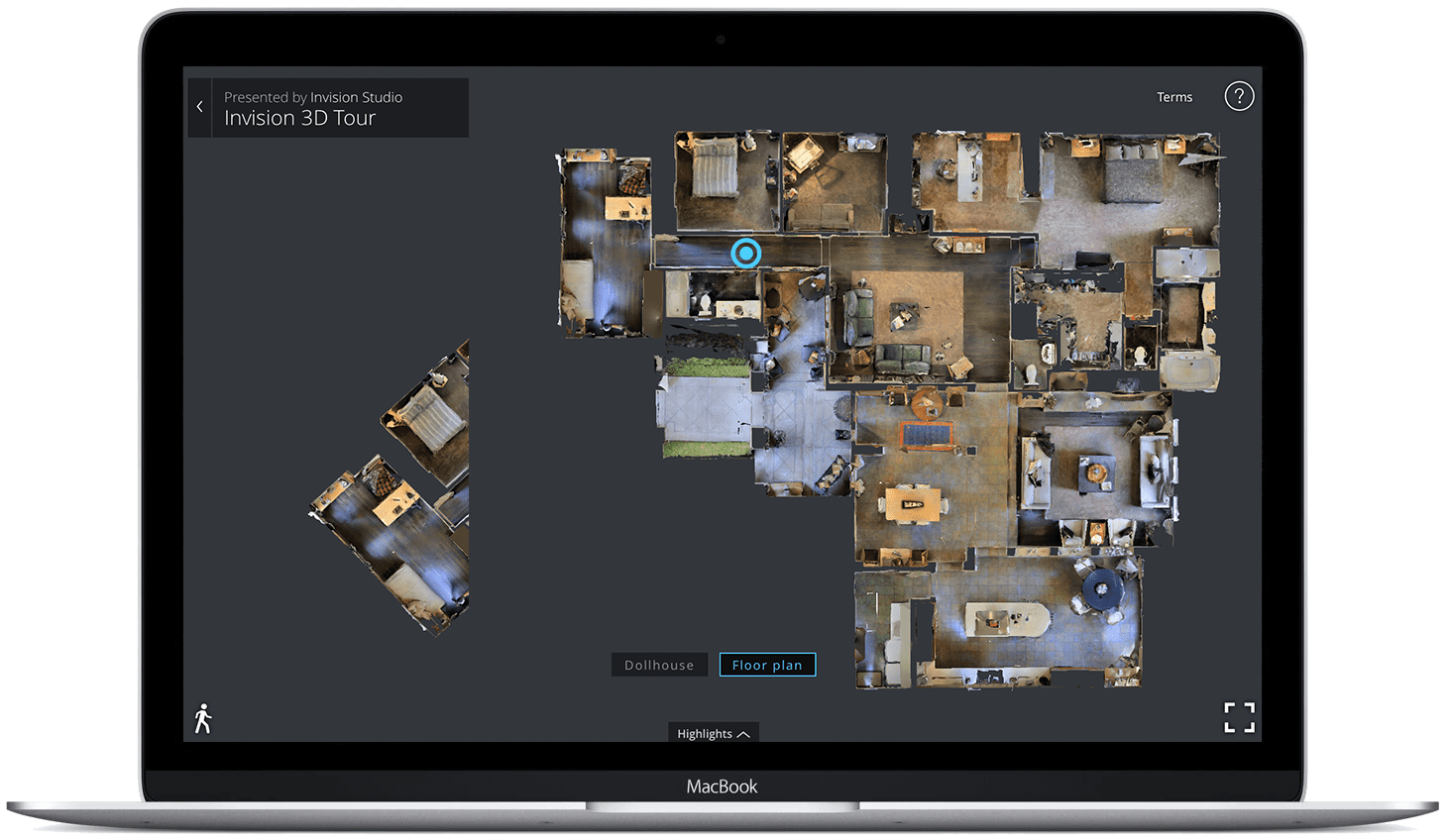 Help your agents with a distinct competitive advantage. Prove that you're providing them with premium marketing tools meant for winning listings, selling homes faster, and helping them build a credible reputation.
Stop losing listings you should have won
Be the first in your market to offer an experience unlike any other. Agents attract more motivated, qualified home buyers by providing them with an open house that will always be show-ready. Immersive virtual reality 3D Tours give home buyers access to a property around the clock, even with the listing agent isn't available to showcase it.
Be known for QUALITY
Gain a reputation as a tech-forward real estate brokerage by offering immersive VR 3D spaces that agents, sellers, and buyers will demand. People will remember you when it comes time to sell.
VR 3D Tours: For Agents
Win more listings
Produce breath-taking visual marketing material that will blow away sellers and captivate home buyers. Showcase properties using innovative VR 3D Tours that will build early buzz and attract prospects by the dozens. Because prospects will have seen the experiences you offer – on your own site or through social media – they'll be more likely to choose you when it comes time to sell.
Build your name
Successful agents differentiate themselves with quality real estate marketing tools. Prove to sellers that you have the right modern day technology for the job — grow your business with Invision Studio 3D Tours powered by Matterport — and digitally recreate properties and transform them into unbelievable immersive virtual environments.
For the latest tech news and trends, Matterport 3D Tour information, Aerial Photography Service updates, 360 Virtual Tour projects, incredible HDR Real Estate Photography images, Architectural Photographer tools and much more, make sure to follow our blog: https://invisionstudio.com/blog/
Tags: