In real life, we experience things spatially. Our brains are constantly calculating distances, sizes, and volumes to try and get a clearer understanding of the world around us. Invision Studio 3D Tours powered by Matterport, give users more than visuals – they provide the feeling of what's it's like to be at a physical location.
Additionally, they make us understand the deeper stories and emotionally connect with a space in a way that'll never make you look at things the same again. Invision Studio 3D Tours powered by Matterport aren't traditional photos or video. These cutting edge VR 3D Tours are a completely new innovative immersive media that invites you to explore a place as if you were really there.
Have the freedom to be anywhere at anytime.
Invision Studio 3D Tours powered by Matterport take you beyond the real world. With a complete digital representation of a real-world environment, you can gain unprecedented insight into a space.  Immersive 3D Tours allow you to take spaces across the world that people are interested in, whether they're museums, landmarks, or cultural heritage sites, and make them available to everyone so that anyone, anywhere around the world can jump inside one of these spaces – virtually, and start exploring it.
Be able to experience the sense of what it's like being at a location without even being there physically – through virtual reality.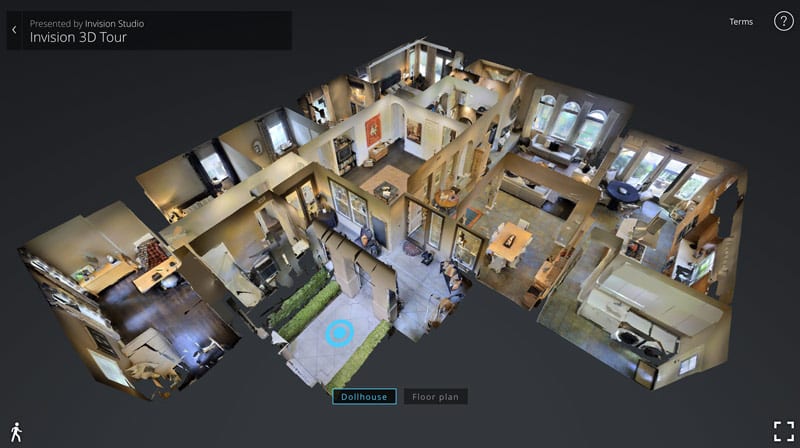 Use Dollhouse view to see a whole property at once, switch to floorplan view for a traditional top-down perspective, or walk through like you're there with the immersive 3D Tour first person view.  
Drive Traffic and Leads
It's always a challenge to come up with new and innovative ways to engage audiences. 3D Spaces are changing the game of driving web traffic and gaining consumer mindshare. Put yourself at cutting edge of immersive storytelling, whether you're promoting a venue, launching a product, or building an established brand.
Invision Studio 3D Tours powered by Matterport makes your audience part of the story, putting self-guided discovery at their fingertips. Take your audience to the places where history is made, news is breaking, and breathtaking experiences abound with innovative and immersive VR 3D Tours.
For the latest tech news and trends, Matterport 3D Tour information, Aerial Photography Service updates, 360 Virtual Tour projects, incredible HDR Real Estate Photography images, Architectural Photographer tools and much more, make sure to follow our blog:https://invisionstudio.com/blog/
Tags: