Immersive Virtual Reality experiences take you away to imaginary, impossible worlds by making the senses feel as if there actually at a location. This Immersive Virtual Reality experience is accomplished by merging a variety of components together. Combine the creativity that sparks the imagination – alongside powerful storytelling that leaves viewers wanting more – and you have a truly memorable experience. But how does it all work?
A Uniquely Creative VR Experience
Immersive Virtual Reality (VR) is unique in that it places the user inside of a Virtual Reality digital content experience. VR showcases content designed to work with stereo vision, so VR designers and developers can't rely on their knowledge of what works for traditional desktop and mobile displays.
It's All Perception
The most noticeable difference between Immersive Virtual Reality (VR) and traditional displays is the way graphics are presented to a user. The graphics are not automatically better or worse than traditional displays, but the presentation itself is essentially different from the flat experience that we've been accustomed to for quite some time now.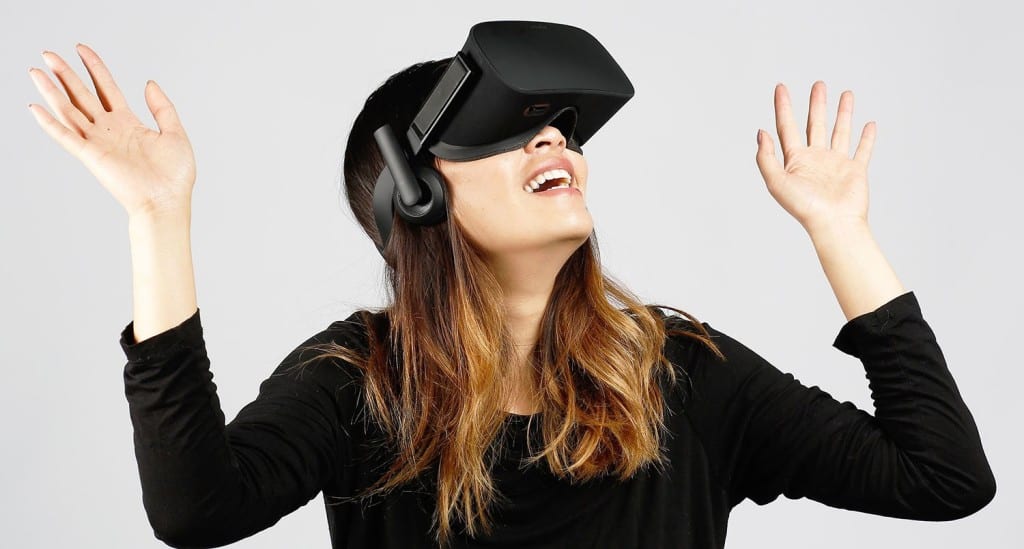 Creating an illusion for the user, while allowing the user to participate in defying their perception of the world, is pivotal to Immersive VR. Immersive Virtual Reality exists in the same way as any magic trick: if you can fool the senses, it's as if your mind automatically makes it real.
The Stereoscopic Display: Creating a Sense of Presence
A stereoscopic display is one component that separates Virtual Reality from the huge percentage of non-VR systems. Stereoscopic displays present a distinct view of the virtual scene to each eye, in the same way that stereo headphones play different sounds for each ear. Stereoscopy is a powerful cue to the brain that certain objects are farther away than others. Combined with other depth cues, such as parallax (objects in the distance appear to move slower than objects close up), converging lines, and shading, a stereoscopic display can be employed to effectively create a sense of presence.
Head-mounted Displays: Creating a More Intimate Experience
Two flat rectangles are not the ending for display technology. The projection of the world, is fundamentally different when the screen is attached to a user's head. When used with the lenses in a head-mounted display (HMD), barrel like distortion provides an massive field of view that seems to stretch around a user's head. HMD's make it possible to place the display closer to the eye.
Rendering and the Human Eye: A Focus on Focus
The nerves that line the retina of your eyes aren't laid out in an evenly-spaced grid of rectangles. That is to say, they are not at all like pixels in a typical computer monitor display. Rather, they are log-polar. In other words, they arranged in a spiral around the center of your retina, where they're densely-packed and become increasingly spread out as they move further away from the center. Unwrapping that spiral, a flat image becomes strikingly different.
This means, among other things, that people are really good at seeing details they're focusing on, while peripheral vision lacks considerable detail.
The log-polar layout in the human eye also means that people are good at recognizing scaled and rotated versions of images they've seen before. Scale and rotation are reduced to shifts under this projection, meaning that to the brain, there's very little difference between seeing something close up and seeing something far away, or seeing something right-side-up, and seeing something tilted.
The mind is always grasping for the meaning of what it's seeing. The same "wiring" that makes us good at recognizing what's familiar makes it easy to be tricked, and VR seems to take advantage as it's fundamental approach.
Types of Virtual Reality Displays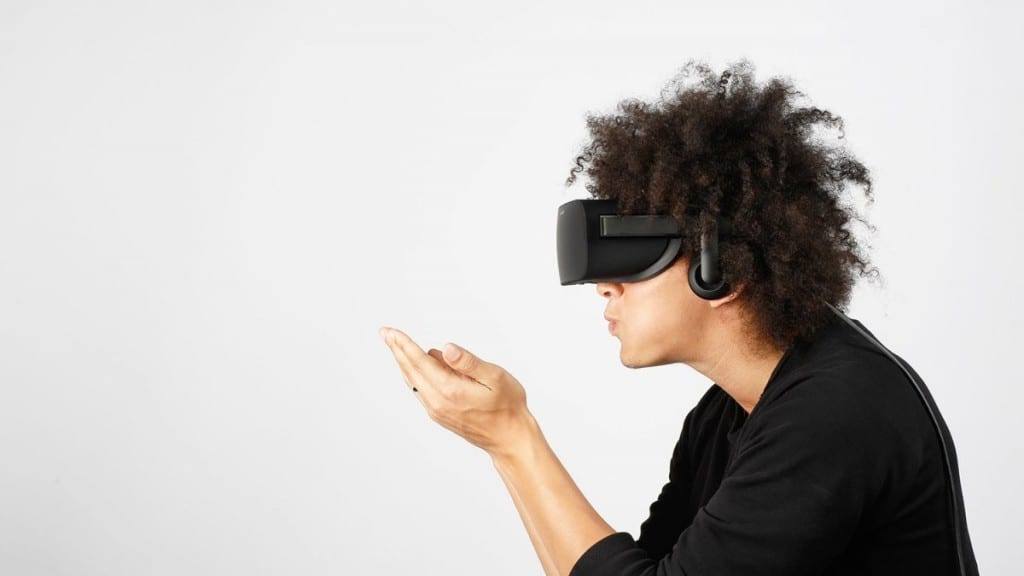 Flat screens and OLED panels
A variety of companies are already making use of flat screens inside their head-mounted displays (HMD's). Oculus VR for example, maker of the VR powerhouse Oculus Rift, uses a pair of organic light emitting diode or OLED panels in their headset. OLED panels are LED screens with a film made of organic compounds.
While OLED technology has been used in devices like phones and computer monitors since the early-to-mid 2000s, the screens used in headset displays like the Oculus Rift have stricter requirements.
To use an OLED panel in a headset, the refresh rate (how often new images are drawn to the screen to simulate motion) must be much greater than a television, monitor, or phone screen. That is:
Other displays refresh around 60 times each second. A VR headset must refresh 90 or more times per second.

To avoid motion blur, the response time (a measure of how long pixels take to change from one color to the next) must also be faster.

All of the pixels on screen should change at once, instead of refreshing from top to bottom as they do with a phone or monitor screen.
These factors are a fundamental shift from the familiar demand for detailed graphics. Slight improvements in the way details are presented are significant: when the presentation of details takes these factors into consideration, the experience is immersive.
Lightfields, Laser Waveguides and Holography
Other emerging display technology eclipse's LED-based Immersive Virtual Reality. Displays used in the MagicLeap and Microsoft HoloLens, claim to use technologies like light fields, laser waveguides, and holography to create a multi-focus 3D display, where users' eyes can naturally focus on things close up or far away, rather than fixing on screens in front of their faces, such as with head mounted displays (HMD's).
They LED-based virtual reality displays contribute to suspension of disbelief in Augmented and Virtual Reality experiences by allowing both Augmented Reality and VR to behave much more like the human eye expects.
Whether you're using Immersive VR or AR to play your favorite video games, or go on an adventurous hike in Yosemite, the way you perceive the world around you will never be the same, once you get to experience a true Immersive VR/AR Head Mounted Display.
For the latest tech news and trends, Matterport 3D Tour information, Aerial Photography Service updates, 360 Virtual Tour projects, incredible HDR Real Estate Photography images, Architectural Photographer tools and much more, make sure to follow our blog:https://invisionstudio.com/blog/
Tags: