Our brains are constantly calculating distances, sizes, and volumes to understand the world around us. Where video falls flat, 360 Virtual Tours and 3D Tours give users more than visuals – they provide the feeling of being in a physical location without really being at a physical location.
Real 3D data is the only way to give your audience a true sense of presence – the feeling of being in a place. It is for this reason why more and more property owners and realtors are now using 3D Tours and 360 Virtual Tours to immerse their audiences in virtual reality experiences unlike any others online.
By allowing your consumers to virtually walk through your property as if they were there in person, it grants you the opportunity as a business to attract quality leads, online traffic, and higher interest to your property listing or establishment.
Understanding that it is pivotal to use either an immersive 3D Tour or 360 Virtual Tour to market a property online is one thing – knowing how to maximize their use is another. To clearly understand the difference, here are the pros and cons of both 360 VIrtual Tours and 3D Tours.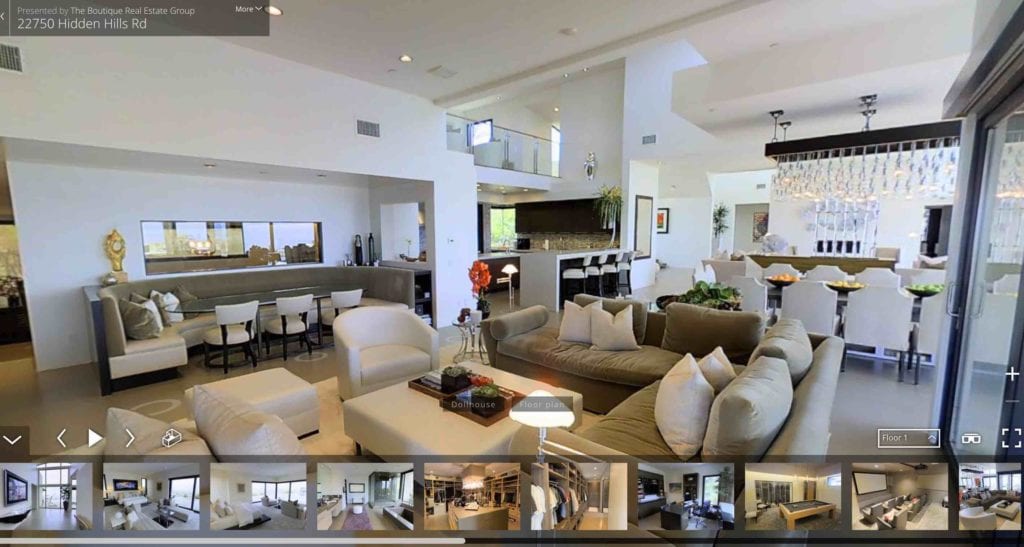 Immersive 3D Tours are packed with features that will help you promote your brand and highlight your property to ensure that every viewer is totally engaged in your 3D Tour.
Pros:
3D Interactive Dollhouse Floorplan
From a seamless web application, customers can preview a photographic floorplan, then see the property from a completely one of a kind 3D "Dollhouse" floor plan view, getting an entire understanding of the layout of the property before jumping inside.
Use Dollhouse view to see a whole property at once, switch to floorplan view for a traditional 2D top-down perspective, go outdoors with 360° Views, or walk through the interior like you're really there.
Guided Tours
With a guided tour, viewers can press play, sit back, and have the major features guide you through the property. 3D Tour "Guided Tours" give you another way to help you visualize a true 3D Tour. With the highlight reel feature, audiences are pointed toward that wide-ranging view from the second-floor study.
'Mattertag' Post
Communicate with "Mattertags", a way to add context to specific locations, objects, and features with a title and text description anchored right to a point in a 3D Tour Showcase.
These post can help highlight key features within an immersive 3D Tour Space, ask questions, and add context. You'll see more, deeper engagement with your visual VR content, and will be able to leverage a 3D Tour as a more effective marketing, workflow, and storytelling tool – no matter how you use it.
Schematic Floor Plan with Measurements
Traditional black-and-white floor plans are still used for both online and offline marketing and as a helpful add-on for new homeowners.
Schematic Floor Plans complete your marketing portfolio, presenting a cohesive listing presentation, in order to acquire new sellers and engage more buyers.
Schematic Floor Plans make great collateral for property marketing and are a useful add-on for new homeowners. Traditionally they can get expensive, and add another complication to your marketing efforts when listing a property for sale. Now, you can create black-and-white floor plans right from a 3D Tour.  
Quick turn-around means you can get your marketing materials out faster, with less hassle. Create next-level immersive experiences and traditional marketing collateral with the same scan. Schematic Floor Plans are complete with measurements and room labels, and are one more way to add value to a 3D Tour.
VR Compatible
3D Spaces are the most immersive way to experience real-world places, whether you're on a traditional browser or using a VR headset. Now with VR, 3D Tours are that much more immersive and engaging, because viewers get a total sense of presence – the cognitive sense of physically being in a place.
Take your immersive media experiences into a whole new world with the Matterport VR Showcase app for Samsung Gear VR. 3D Tour presented on VR headsets offer full-body immersion.
Cons:
Cannot Edit or Retouch Images
The 3D Tour "textured mesh" is the result of all the spatial data that is collected by the camera and processed through the Matterport cloud. A textured mesh is a dimensionally precise, 3D map of a space that is characterized by a set of polygons onto which 3D Tour software overlays colored textures.
The textured mesh consists of walls, floors, and ceilings, as well as all of the separate objects within the actual space being captured. 3D Tour editing software then projects the spherical 2D photography that the camera collects onto the textured mesh to provide photographic visual quality within the 3D space. Unfortunately because of this process, once a 3D Tour is complete, the space can no longer be edited or retouched.
No Gyroscope Capability
Unlike 360 Virtual Tours, at the current moment, 3D Tours unfortunately do not have gyroscope capabilities. What this means for the end user is that if you are trying to view a 3D Tour on a mobile device or tablet, the 3D Tour itself will not move with you as you move your device from left to right, or up and down.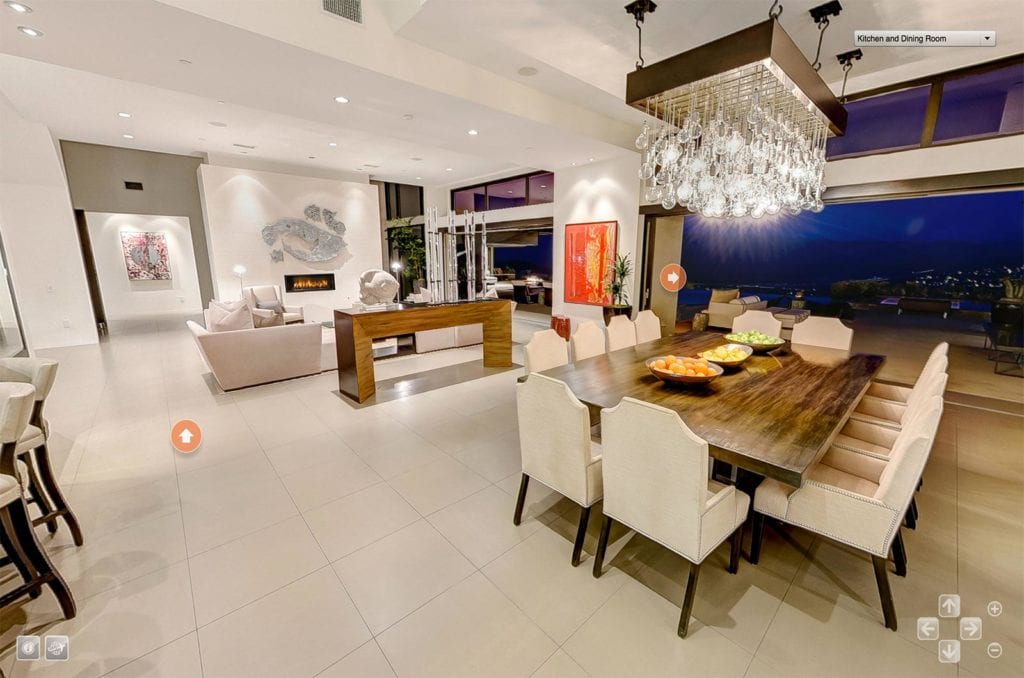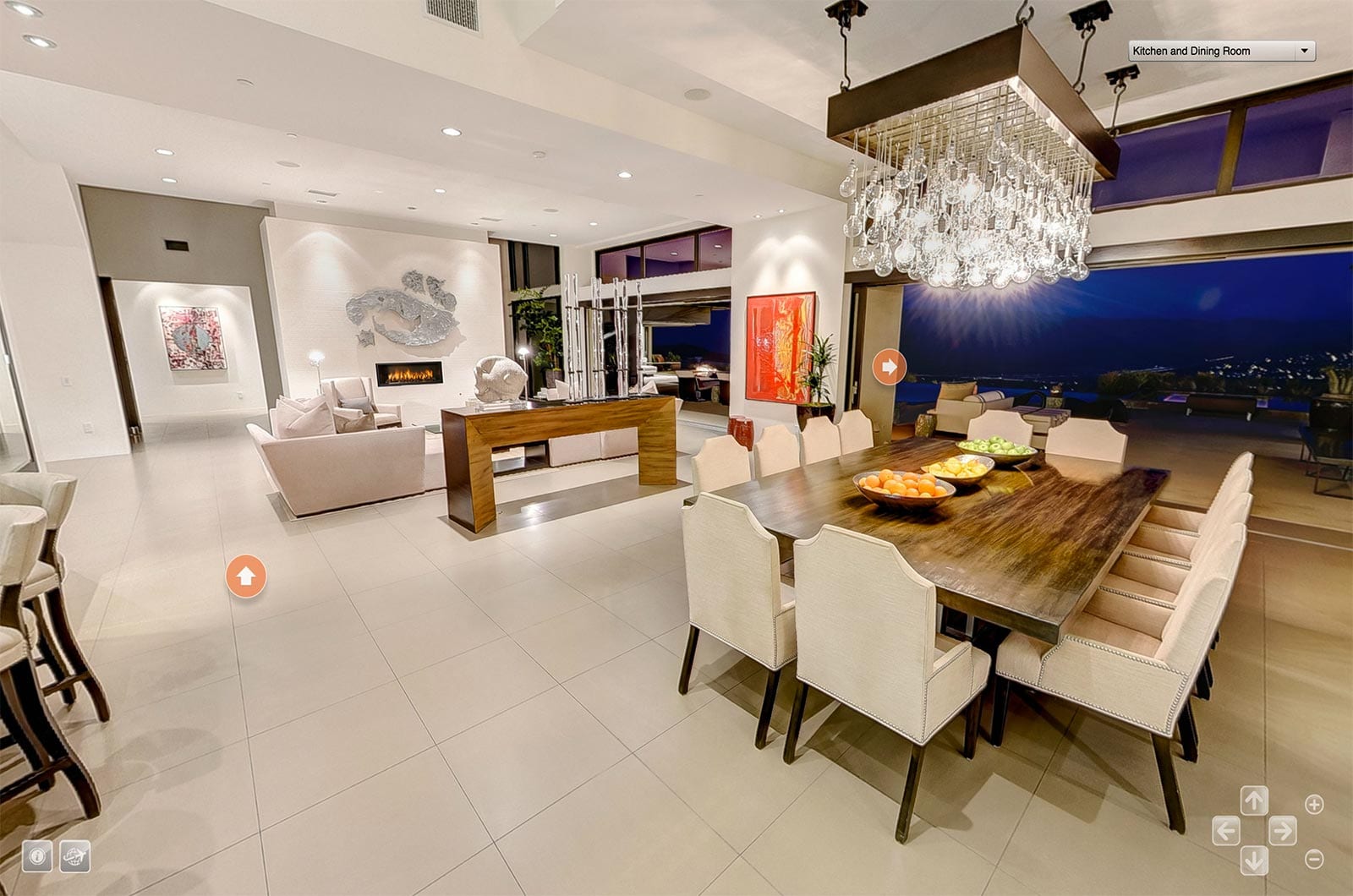 Pros:
Higher Image Quality and Sharpness
High-resolution Virtual Tours that can be viewed at full screen are generally the best option for any industry leader who prides themselves on quality.
The great news is that there are a lot of virtual tour companies to choose from. Unfortunately some provide average results.
Make a qualified list of virtual tour providers and then have a very detailed look through their sample work.
Pay attention for 'stitching errors' – places where the photographs that make up the 360 tour don't line up properly.

Look for clarity – are the lines clear and sharp, or are they fuzzy and pixelated?

Check for overexposure – Can you see through windows, or are they very bright, distorted, and hazy?
If you are looking for high quality 360 tours, it's essential that your 360 virtual tour providers have great photographers. We highly suggest taking a glimpse at a virtual tour companies sample work before moving forward with a decision.
Able to Edit/Retouch Images
Often times, a storefront can go through renovations to change the ambience, feel or looks of a place, attract new customers, or add new inventory to their featured displays. 360 Virtual Tours allow you to easily contact your service provider whenever you need changes to the look and feel of your virtual tour, and at ease, have your new inventory revised on your showcase displays throughout the Virtual Tour.  
Uses Gyroscope in Mobile Device to Move Around
Smartphones use gyro sensor to detect the orientation of the device (smartphone). It's a gyroscope in the form of a small sensor. This sensor is calibrated to give a reading of zero when the device is kept on a plane horizontal surface. Any change in orientation of the device is measured by the gyro sensor.
Case in point: View a 360 Virtual keeping your phone horizontal, rotate the phone to vertical position, what do you notice? You will see that the Virtual Tour also gets rotated as your phone (provided you have kept the rotation to be ON in your sensor settings).
The gyro sensor is constantly sending its orientation data to the display driver and based on certain orientation condition the display driver prepares the frame buffer in a certain way so that the picture appears to the user in a certain way (horizontal and vertical).
Hotspots
360 Photography Floor plans give a bird's eye view of the property and allow the user to click different areas on the floor plan called "HOTSPOTS" to move from room to room.
Hotspots enable the viewer to move around from room to room by clicking the hotspot arrow. The arrows point in the direction of the desired location so the viewer is able to get a feel for the layout of the entire property through the 360 Virtual Tour.
Info Boxes
Virtual Tours enable you to integrate HTML5 compatible infoboxes within each Virtual Tour. If you're looking to re-direct your traffic to landing pages, videos, social links, or opt-in forms, infoboxes are a great way to do so.
Furthermore, if you want to capture the essence of a room without having to focus an entire 360 panoramic shot on it, infoboxes are an outstanding way to add images of that point of interest as an alternative solution.
VR Compatible
Virtual Tours are everywhere and are easy to publish on any website, blog or Facebook page. Simply copy the VPiX tour web link and paste it wherever you want it to show up. Additionally, they are 100% HTML5 compatible and look great when viewed on iPhones, tablets and Android smartphones. Because of these reasons, it makes it easier for Virtual Tours to be compatible with Samsung Gear VR and Oculus VR headsets.
Cons:
No 3D or 2D Dollhouse Floor Plan
Unfortunately the 3D Dollhouse (ability to view the home from a bird's eye perspective through a dollhouse) feature provided in 3D Tours, is not available on 360 Virtual Tours.
No Schematic Floor Plan
Although 360 Virtual Tours do not have the ability to create schematic floor plans, they do give you the opportunity to embed a transparent floor plan, where you can guide yourself through the virtual tour from hotspot to hotspot.  
Final Thoughts
Differentiating yourself is the key to success in any business. The innovative technology of 3D Tours and 360 Virtual Tours will simplify the process for any viewer to engage with your business. Adding a 3D Tour or 360 Tour inevitably gives the viewer the full context of every view and a visually stunning presentation. Now you can quickly and easily capture an entire property and create a completely immersive, interactive, photo quality experience.
For the latest tech news and trends, Matterport 3D Tour information, Aerial Photography Service updates, 360 Virtual Tour projects, incredible HDR Real Estate Photography images, Architectural Photographer tools and much more, make sure to follow our blog: https://invisionstudio.com/blog/
Tags: