These are stimulating times in the real estate technology space. 3D Tours, 360 Virtual Tours, connected home devices, beacons, Drone Aerial Photography and Immersive VR Headsets, have the incredible potential of reshaping how people buy and sell real estate. With all of this innovative cutting-edge technology, it can be challenging at times to differentiate tools that truly enrich users lives and which ones are simply just for show and tell.
The future belongs to those who are relentlessly helpful, This is truly the only way to grow a business in 2016. In many ways, Luxury Real Estate professionals are the ultimate curators. But very often that value proposition is in question, often destroyed by Luxury Real Estate agents less than willing to justify their commission check. This unfortunately impacts everyone, even the perception of high-performing Luxury Real Estate agents and certainly the brand of the industry as a whole. Ultimately, the act of curation is about reflecting a point of view, but from a business perspective, sending people elsewhere very often doesn't make sense. This still feels like a largely unresolved problem in 2016.
A great example of this is the difference between what's served up in the search results experience online, versus what an agent does with their customer. It's not about volume of results and comprehensiveness, it's about empathy, guidance, insight and understanding. And it's the key point of differentiation between an agent and a portal. So in shaping the experiences of our customers, curation is increasingly a challenge, not only given the amount of content being produced every day, but also our need to remain relevant in our customers' lives, and our future customers' lives.
In many ways, 'you are what you share'. There's a variety of Luxury Real Estate agents who do this fantastically well, truly 'owning' their respective markets but for too long these individuals have been in the minority. And lastly, curation is still a key competitive differentiator, so use it wisely, sparingly, and stay relentless as a means of remaining relevant.
Is Immersive VR (Virtual Reality) Ready for Real Estate?

It feels as if we're finally at that tipping point where, after many false starts and promises of truly immersive experiences, we are at that point where VR is going to hit the mainstream. With an aggressive democratization of the means of experiencing VR content, most notably through Google Cardboard, falling hardware prices fueled by Sony, Samsung, Microsoft, the gaming industry, and Facebook's acquisition of Oculus, it certainly seems as if 2016 is the year where Immersive VR begins to gain some long-awaited traction.
For the Luxury Real Estate industry, we've seen the growing standardization of VR through immersive tech companies like Matterport and Floored, but this is a much larger opportunity. For those of you who work with international or relocation clients, the opportunity to give them a remote but truly immersive 3D Tour of an apartment might be something really amazing and special.
What is the difference between Augmented Reality and Virtual Reality?
While both offer the ability to immerse yourself in an experience, Augmented Reality is still tied to the real world, and very often acts as a 'layer' of information on top of the user's view of the real world. Virtual Reality by comparison has no relation to the real world of the user and is 'purer' in its sense of transporting them somewhere else.
Immersive VR appears to be a great fit for the Luxury Real Estate industry. Immersive VR has some interesting applications for those premier Luxury Real Estate agents who work with remote, relocation or international customers, in being able to help them understand a space and free of the challenges of travel. .
When it comes to truly understanding that sense of place beyond the four walls of the home itself, we hear a lot from our users that this is primarily something they do offline. Being able to have a Luxury Real Estate agent virtually 'hold your hand' through that would be an outstanding substitute for actually being there in person. This feels much more of a powerful opportunity for Luxury Real Estate agents over the simple syndication of data to listings portals.
3D Tours: Differentiating Yourself with True Insights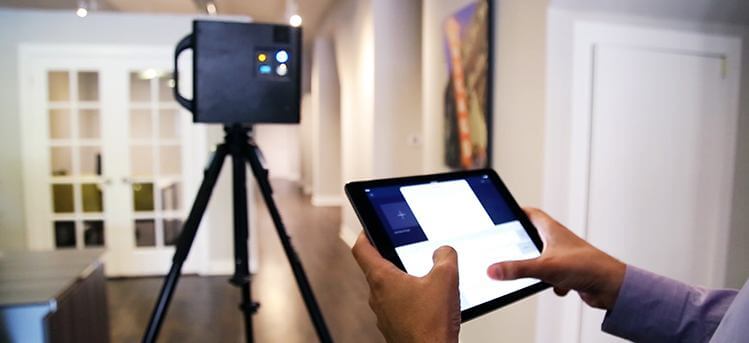 It really comes down to the difference between data and insight. Data is what a search service does, but especially within the real estate category, there's often very little insight included online. And it starts with the questions users already have in their heads – what does it feel like to live there? How long will it take me to do the school run in the morning? What's good to eat around here?
These are very underserved online, but something that's incredibly well served offline by agents, who know the answers to these kinds of things in a heartbeat. As premier Luxury Real Estate agents and brokerages look to increase their digital value online, putting that guidance and insight into the search experience, and actually answering questions that customers have, is a very powerful way not only to stay visible in a sea of results but to communicate value to the searcher of why they should work with you.
Overall, embracing a spirit of being relentlessly helpful, and making your own knowledge actionable for your customers is a great place to rise above the competition. Standing for something different from other Luxury Real Estate agents, and being exceptional are some of the few remaining ways to do this, but most importantly, it's something you have to earn. You can't buy this level of customer service, and those that are effective at this will have a much stronger ecosystem around their referral business.
For the latest tech news and trends, Matterport 3D Tour information, Aerial Photography Service updates, 360 Virtual Tour projects, incredible HDR Real Estate Photography images, Architectural Photographer tools and much more, make sure to follow our blog :https://invisionstudio.com/blog/
Tags: