When it comes to the interior shots for a Luxury Real Estate Photography project or architectural photography client, in many cases, there is much more involved than what meets the eye at first glance. In order to create a photograph that is realistic and enticing, careful planning, staging, lighting and a healthy dose of patience is crucial. Lets dive into a luxury interior shot and see what it takes to construct a breathtaking interior photo from the ground up.
When shooting an interior, there are a variety of things to take into consideration: Interior light levels:
Exterior light levels

The amount of flash that our Luxury Real Estate Photographers want to use

Color temperature

Composition

And who our client is
All of this comes together into two critical questions: "what do I need to show?" and "how am I going to show it?"
Prior to Shooting
Prior to shooting any architectural scene, our Luxury Real Estate Photographers take a good walk around and get a feel for the space. Every single scene that is shot, we want to know the different compositional options available, how the light will affect the scene, what interesting architectural features must be shown, and how should our Luxury Real Estate Photographers display them.
Take Some Time to Stage and Organize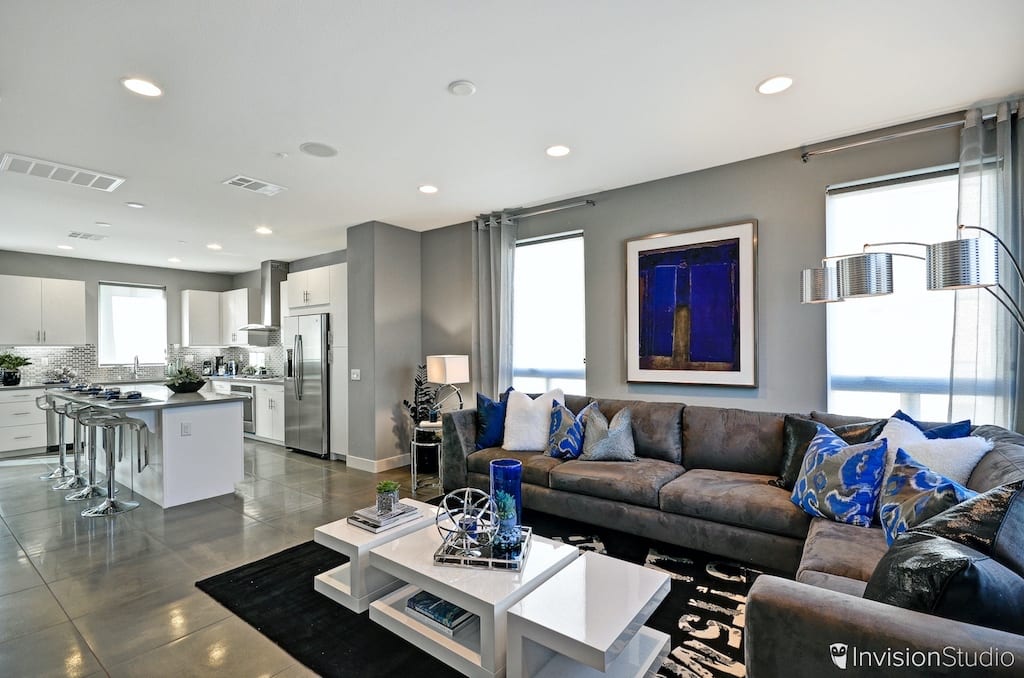 When we walk through a room without a camera, our brain is incredibly good at disregarding a little bit of clutter to see the big picture. We can overlook some books on a coffee table in disarray, or a few coffee cups and crumpled blankets and say "wow, what a beautiful room!" While we're great at filtering those things out while we're just walking through a room, it is a very different story with a photograph of a room.
Everything must be placed very deliberately or the flaws of the room become clear, and more obvious. Pillows tend to look disappearing and dejected in a photograph if you don't take a minute to fluff them up, creases and uneven blankets on beds will photograph terribly, crooked and uneven carpets can ruin the perfect composition by fighting with your eye and the leading lines of a photograph, and toasters and microwaves can kill the photogenic qualities of most kitchens with ease.
If you aren't at liberty to remove and rearrange, our Luxury Real Estate Photographers at least recommend taking five minutes and walking through the room to straighten, align, and organize everything possible. Staging and organization probably plays just as large of a role as lighting when it comes to interior photographs, and to rush through any shoot without putting in a few minutes to clean up is definitely unacceptable.
Be Mindful of Vertical Lines
This is typically the number one issue that rears its head over and over again when people who are interested in taking photographs of architecture or interiors ask our Luxury Real Estate Photographers for help. If you want to dive into this type of photography, this rule can't be ignored. When we tilt the camera up or down, vertical lines converge.
This leads to the ever-ugly 'building falling backwards' look. If you're shooting for an architectural client, this is especially essential, as leaning vertical lines and buildings that look like they're about to fall over backwards will make it appear as if the architect or builder is incapable of keeping a line straight and true, and that the building is not structurally sound.
For the latest tech news and trends, Matterport 3D Tour information, Aerial Photography Service updates, 360 Virtual Tour projects, incredible HDR Real Estate Photography images, Architectural Photographer tools and much more, make sure to follow our blog : https://invisionstudio.com/blog/
Tags: