Are you aware that 87% of homebuyers who searched for a home on the internet found quality Architectural Photography and Luxury Real Estate Photography to be among the most useful features of Realtor websites, according to the 2015 NAR Profile of Home Buyers & Sellers? Professional high-end Architectural Photography and Luxury Real Estate photography allows Realtors to serve their clients like never before. High-res digital images can quickly and professionally display a listing,  The following blog will guide you from the beginning to the advanced stages of why you should choose a Luxury Real Estate Photographer over a standard real estate photographer.
Luxury Real Estate Provider           Standard Real Estate Provider
Top quality camera equipment

High-res, full frame cameras

High end lenses

Sturdy tripods

Professional lighting

In-house editing by hand

Full HDR blending to balance light

Masking in fires, TVs, and skies

Touches up blemishes, imperfections, and reflections.

Special Client edit requests

HDR Photography Style

Balanced lighting & detail

See scenery outside windows

Vibrant colors

Experienced Photographers

Dynamic Angles

Staging every room and angle

Professional and knowledgeable

Expert twilight photography

Low quality camera equipment

Low-res, crop sensor cameras

Cheap lenses

Flimsy tripods

No lighting

Outsource editing (or no editing)

No blending, unbalanced light

No masking, photos left as-is

No touch ups. All imperfections visible and prominent.

No edit requests… As is

One Shot Photography

Bright light & dark shadows

Bright, blown out windows

Dull colors

Novice Photographers

Flat Angles

Shoot room as-is

Low professional conduct

Novice or no twilight shots
Experience
One can only learn so much from photography school or photography classes. Experience in the field is truly what separates the mediocre Real Estate Photographers from the great Luxury Real Estate Photographers. An experienced Luxury Real Estate Photographer knows how to handle any shot, angle, and obstacle in the way that will create the best possible shot to sell a home.
Angles – Experienced Luxury Real Estate Photographers know how to take any room and choose the best vantage point, height, zoom, and position to create the most dynamic angle to show off each room or space in the best way possible. Novice photographers will usually just wedge the camera in the corner and shoot a wide-angle shot of every room without thought.
Staging – Half of a photographer's job is to stage (or re-stage) each room for to work best for photography. A novice Real Estate photographer will shoot each room as-is and the result is an un-balanced image. An experienced Luxury Real Estate Photographer knows how to clear out large items and clutter from rooms and make adjustments to the furniture and objects in each space to set it up the best way possible for each shot, sometimes doing this many times per space each time the vantage point is adjusted.
Professionalism – In order to provide comfort and piece of mind to the client, an experienced Luxury Real Estate Photographer knows how to conduct himself or herself professionally. Additionally, experience is the only thing that can prepare a Luxury Real Estate Photographer for any situation or obstacle that is thrown their way during a photo shoot. Having the poise and presence of mind to plan the best way around any unforeseen situation means the world to the clients and homeowners.
Twilight Photography – This is one of the most difficult and demanding type of photo to capture in architectural photography; it takes perfect preparation, timing, and patience. Only an experienced Luxury Real Estate Photographer knows how to properly set up, time, and shoot a twilight image to create the majestic, soft glow that can really sell a property.
Camera Equipment
The equipment that a photographer uses makes all the difference in the world. It would be like expecting the same image quality as a 10 year old Nokia phone versus a brand new iPhone. The iPhone costs more and is far more advanced in every way. But the cost and technology make a huge difference.
Cameras – Full frame cameras bring in more light to the sensor and read more photo data to create much higher quality photos. They typically have a better focusing system so nothing in the shot is blurry. They also have a better processing chip for better color and contrast for the photos.
Lenses – This is the most important part of a camera. The quality of the lens makes all the difference in the world, and there is also a huge difference in cost between a good and bad lens. Most standard photographers try to save money here and the result is poor color contrast, sharpness, and overall image quality. This separates a good shot from a great shot.
Sturdy tripods – A sturdy tripod is critical, especially when shooting in low light. Most Real Estate and Architectural Photography is shot in low light conditions and therefore a necessary tool. Standard photographers will use a flimsy tripod because they are much less expensive, easier to move around, and easier to set up. This results in the camera shaking when the shutter is clicked (even with a remote) and creating a blurry shot. High end Luxury Real Estate Photographers invest the money and time into a good tripod and setting up the shots so the camera is sturdy and the shots are crisp and sharp.
Professional lighting – Most photographers these days shoot in HDR, which is great in most conditions. However, there're some cases where professional lighting is necessary. Having a Luxury Real Estate Photographer that knows how to use lighting during twilight shots and low light shots is critical when creating an image that needs to be soft, beautiful, and dynamic.  
Photography Style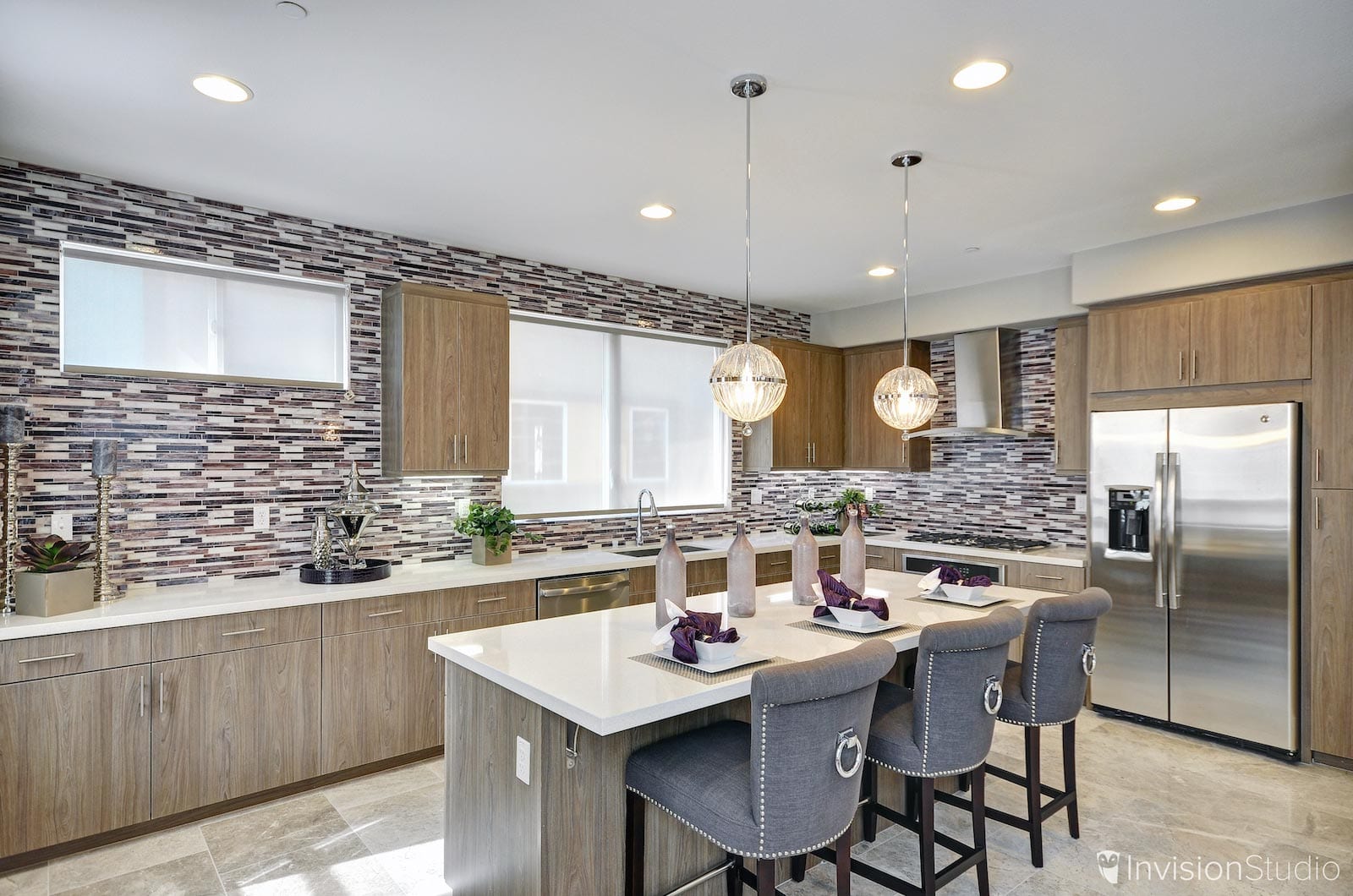 Most high-end Luxury Real Estate Photographers shoot Real estate photography in HDR. Meaning that they shoot every photo in 5 to 12 different exposure levels and blend them together.
Balancing Light – A high-end Luxury Real Estate Photography company will blend the exposures together so that there are no dark shadows or bright lights and every detail is brought out.
Windows – By shooting in HDR, it allows the ability to bring in the darker exposures where the windows are. As a result you will be able to see the scenery outside the windows perfectly. Standard Real Estate photographers will deliver photos with bright, blown out windows.
Colors – When a standard photographer takes a photo in a single shot when there is such a dynamic range of light, the camera does it's best to compensate and find a middle ground, thus losing a lot of the colors and vibrancy of the photo. A top-notch Luxury Real Estate Photographer will make sure to take an exposure to bring out the best color and lighting for every object in the photo.
Post Processing & Editing
Most standard Real Estate photographers outsource their editing to developing countries that to save time and money. A Luxury Real Estate Photography company values the photos enough to take on each project personally. They do all of the editing in-house and by hand to create the highest quality photos possible.
Blending – An in-house, professional editor will take the time to blend the 5-12 exposures together in order to create a perfectly balanced photo. Bringing in the darker exposures where the windows are and the brighter exposures where the shadows are to create a perfectly light balanced photo.
Masking – Most homes have fireplaces, televisions, and scenic exterior images. A Luxury Real Estate Photography company will take the time to mask in nice glowing fireplaces, images onto the TV screens, and even fake dramatic sky backdrops to enhance scenic exterior photos. Other Real Estate photographers will leave everything as is.
Touch ups – It's a fact, homes gather wear and tear when lived in and it's difficult to fix every imperfection in-person. A great Luxury Real Estate Photography company will edit out and dirt, scratches, blemishes and anything else that takes away from the beauty of the property. Other companies neglect this critical step and it results in less appealing photos and a loss in prospective homebuyers.
Edit Requests – The top Luxury Real Estate Photographers treat every project as unique and special. So when clients have specific edit requests, they happily oblige for no additional cost most of the time. A standard Real Estate photographer will either turn away any edit requests or charge an exorbitant amount extra for anything above the "normal" scope of work.
Next time you're in the market for quality Real Estate Photography, make sure to choose wisely by truly understanding the difference between a standard Real Estate Photographer and a high end Luxury Real Estate Photographer.
For the latest tech news and trends, Matterport 3D Tour information, Aerial Photography Service updates, 360 Virtual Tour projects, incredible HDR Real Estate Photography images, Architectural Photographer tools and much more, make sure to follow our blog:https://invisionstudio.com/blog/
Tags: