Experience Immersive Virtual Reality from your pocket! Speck's ultra-thin folding Pocket-VR viewer is finally available for those who want to get their hands on Immersive Virtual Reality that allows you to experience VR on-the-go.
At roughly $70, this Pocket-VR viewer made of durable plastic—not cardboard—folds flat so it's slim enough to put away in your pocket. Designed for either the iPhone 6/6s or the Samsung Galaxy S7, these Immersive Pocket-VR goggles unfortunately won't work with other smartphones since it requires them to be wrapped in an included case for the viewer to properly and securely assemble.
Google Cardboard Certified Viewer
Pocket VR is a Google Cardboard Certified Viewer. This official batch insures a harmonious experience between pocket VR and the latest cardboard apps for your smartphone. The Pocket-VR's open design gives full access to the touchscreen and buttons on whichever smartphone you're using it with, which solves an annoyance with the current Google Cardboard Immersive Virtual Reality viewer.
How Does Pocket VR Work?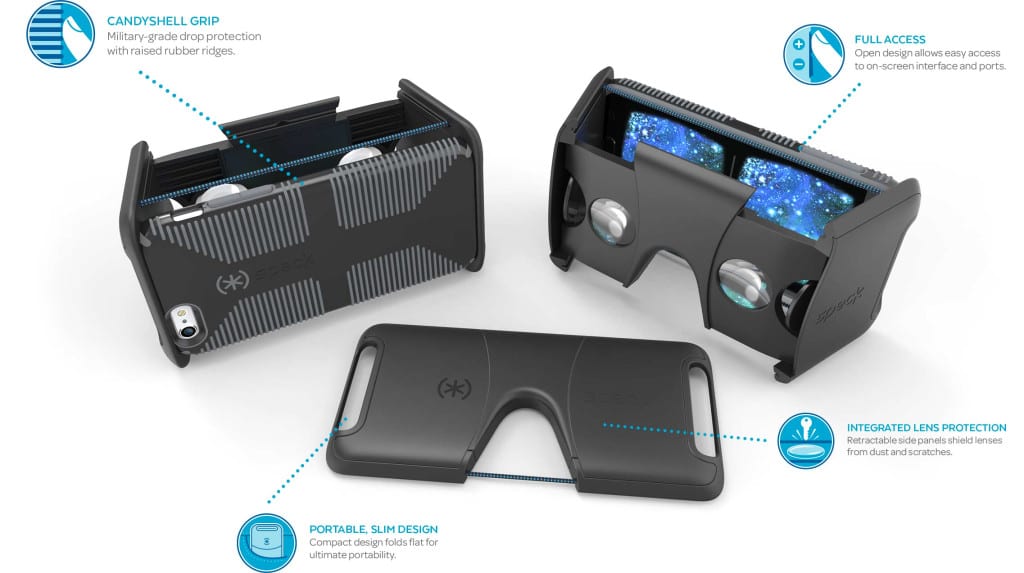 Developed to be completely durable, the Pocket VR viewer is equipped with Candyshell grip's dull layer impact protection, which was created with an exterior polycarbonate layer that disperses impact, and an interior TPE layer which absorbs shock.
When opened, the Pocket VR viewer and its precision crafted lenses provide a rich viewing experience for 3D content, Immersive Virtual Reality, and augmented reality.
When closed, retractable side panels fold into a perfectly flat self contained package that shields lenses from dust and scratches. It can then slide easily into a pocket or purse for on-the-go accessibility.
Using the Pocket VR Viewer is quite easy.
Simply insert your smartphone into the candyshell grip.

Next, download and open to Google Cardboard app from either the Google Play Store or Apple App Store.

Once you've downloaded your favorite VR app, you'll need to calibrate your smart phone by opening the app settings and scanning the QR code on the Pocket VR Viewer.

Slide the panels outward until the lens are revealed and the panels rotate and spring inward.

Then insert both ends of your Candyshell grip equipped smartphone into the open slots of Pocket VR.

Look through the lenses of Pocket VR to choose your content and begin your Immersive Virtual Reality experience.
You're definitely paying a premium for that convenience here. Nonetheless, its well thought-out design can quickly allow you to pull out the Pocket VR Viewer and use them anywhere.
For the latest tech news and trends, Matterport 3D Tour information, Aerial Photography Service updates, 360 Virtual Tour projects, incredible HDR Real Estate Photography images, Architectural Photographer tools and much more, make sure to follow our blog:https://invisionstudio.com/blog/
Tags: