LCOR Apartment Photography Project Overview
LCOR was one of the rare cases where we at Invision Studio did not shoot a 360 Virtual Tour of their apartment communities. They only hired us for our HDR Real Estate Photography services for their communities in the eastern side of the United States, including shooting Apartment Photography for their properties in Chicago Illinois, Tampa Bay Florida, Mesa Arizona, St. Petersberg Florida, and Cleveland Ohio. They had inquired about our Aerial Photography Services but that was at a time where we had just only begun to explore that offering and had not been properly licenced by the FAA to operate our Aerial Drones Commercially.
LCOR specializes in developing urban properties, including large-scale multi-family, mixed-use, and commercial properties. They have  generated strong investment returns while enhancing the quality of life for residents, shoppers, and office workers that reside in and enjoy their properties. LCOR's Real Estate business manages more than 7,400 apartments and 7.5 million square feet of commercial space. As well as a substantial development of mixed use Real Estate in core markets. Nationally, LCOR has developed more than 21,000 residential units and 18+ million square feet of commercial space in the eastern United States, with offices in New York City and the Washington D.C. and Philadelphia metro areas.
LCOR came to us when they had completed development on a few of their new properties in Florida, Chicago, Ohio, and Arizona and were looking for a premier Real Estate Photography Company to shoot their apartment communities so that they could show their communities in the best way possible. We noted that we were also the top 360 Virtual Tour company in the nation as well, but they only had the budget for apartment photography and we had no problem working with their budget limitations to meet their needs.
Challenges
LCOR had primarily been in the business of acquisition when it came to their multifamily residential division until recently when they have increased the amount of new development projects for apartment communities. When a property management company engages in new-ground up development, the job of filling the units is a far greater undertaking than when acquiring a property that already has a large majority of units filled. It is crucial that they constantly market the property; as the goal is to go from 0% – 100% occupancy. Visual Marketing is by far one of the most important pieces to the property marketing puzzle, so services like Apartment Virtual Tours, Apartment Photography, and Aerial Photography Services are all great tools. In this case, budget was an issue, so they chose Invision Studio to shoot HDR Real Estate Photography for each of the new builds to create stunning Architectural Photography pieces for their online and print marketing pieces.
Solutions
Certified Real Estate Photography
Apartment Photography Services
Interior Photography Services
Exterior Photography Services
HDR Photography Services
Travel Photographers
Results
Each of the apartment community photography projects for LCOR were rather effortless. They flew our Invision Studio photographers from the West coast out to their east coast properties in Illinois, Ohio, Florida, and Arizona. We were able to spend some time in each city to ensure that we were able to capture each Multifamily property at all times of the day and in every light setting as well as stay an extra day incase there were any weather issues or unforeseen delays. We were fortunate enough to have great weather and were able to capture incredible apartment photography for each community. In the end, they were able to use the High Resolution Real Estate Photographs for their online and print marketing and were able to fill their units at a rapid pace; mission accomplished.
View the LCOR Apartment Photography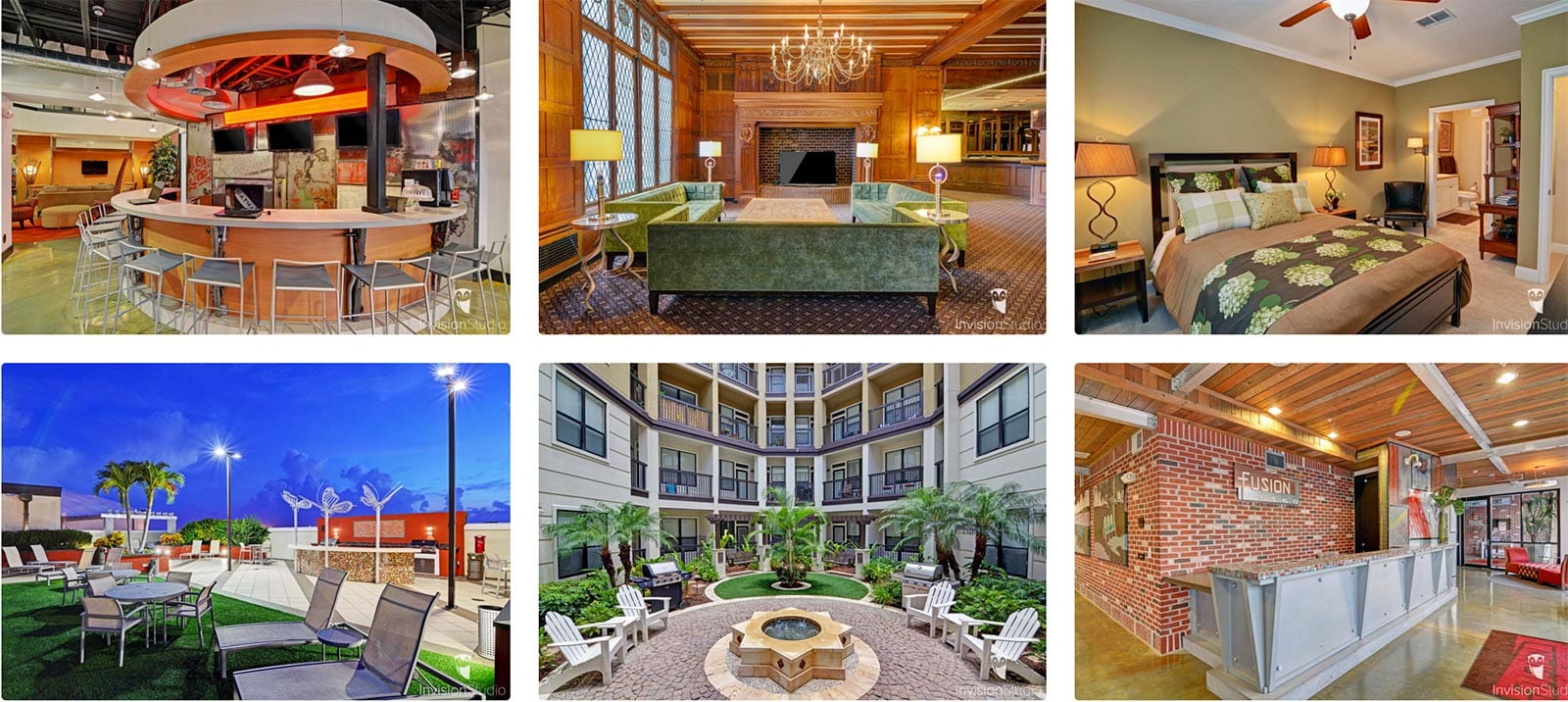 For the latest tech news and trends, Aerial Photography Service updates, 360 Virtual Tour projects, incredible HDR Real Estate Photography images, Architectural Photographer tools and much more, make sure to follow our blog: https://invisionstudio.com/blog/
Tags: