The terms virtual tour and 3D Tour get thrown around loosely nowadays. With new technologies such as immersive 3D Tours emerging into the scene, it's becoming a bit difficult to try and understand the difference between the two.
To help clear up a few things, our Virtual Tour Photographers have put together a brief summary of the pro's and con's of both 360 Virtual Tours and Immersive 3D Tours.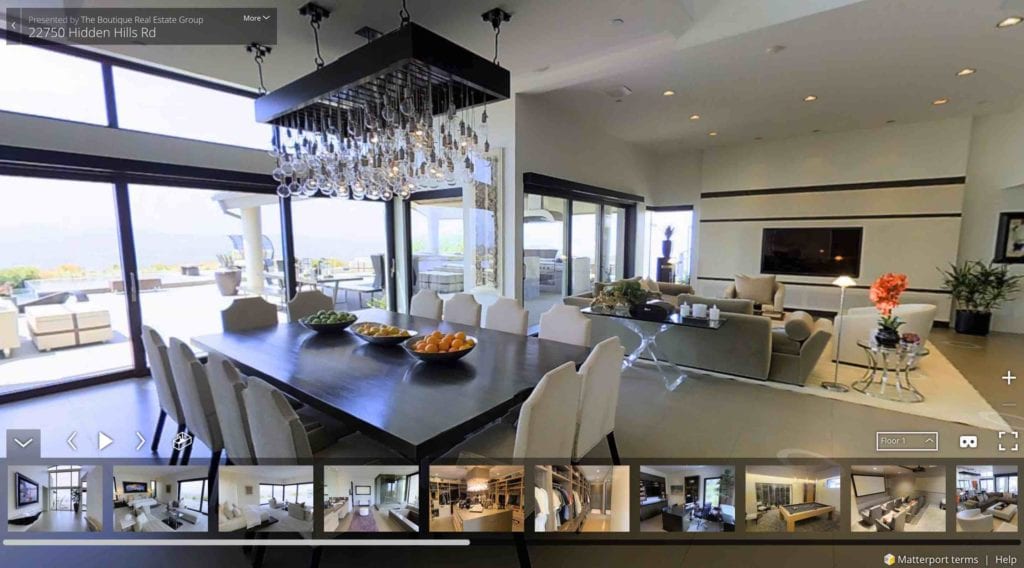 An Immersive 3D Tour is a complete, three-dimensional representation of a real-world location created from 2D (RGB) imagery and 3D data from the Matterport Pro 3D Camera. Additionally, an Immersive 3D Tour can be navigated on a desktop or mobile web browser, and in virtual reality through a Samsung Gear VR, Google Cardboard, or Google Daydream headset.
Combined with the seamless hosting and 3D Showcase web player, powered by Matterport, now you can create a complete 3D media ecosystem for businesses to leverage 3D models of real places for a variety of purposes.
Being the first in your market to leverage technology gives you the best opportunity to create pivotal separation between you and the competition. Adding an Immersive 3D Tour powered by Matterport, to your marketing material, gives the full spectrum of your property and a visually breathtaking presentation.
Pros:
3D Interactive Dollhouse Floor Pan
Use Dollhouse View to see a whole property at once. Switch to Inside View to walk around like you're actually there. Change to Floorplan View for a traditional top-down perspective.
Schematic Floor Plan With measurements

Sample

<

Click to view
Sellers are usually wowed by immersive 3D Tours, but traditional black-and-white floor plans are still used for both online and offline marketing and as a helpful add-ons.
Schematic Floor Plans complete your marketing portfolio, presenting a cohesive property presentation, in order to acquire new sellers and engage more buyers.
Cons:
Cannot Edit or Retouch Images

No Gyroscope Capability

Lack Of Quality in Outdoor Spaces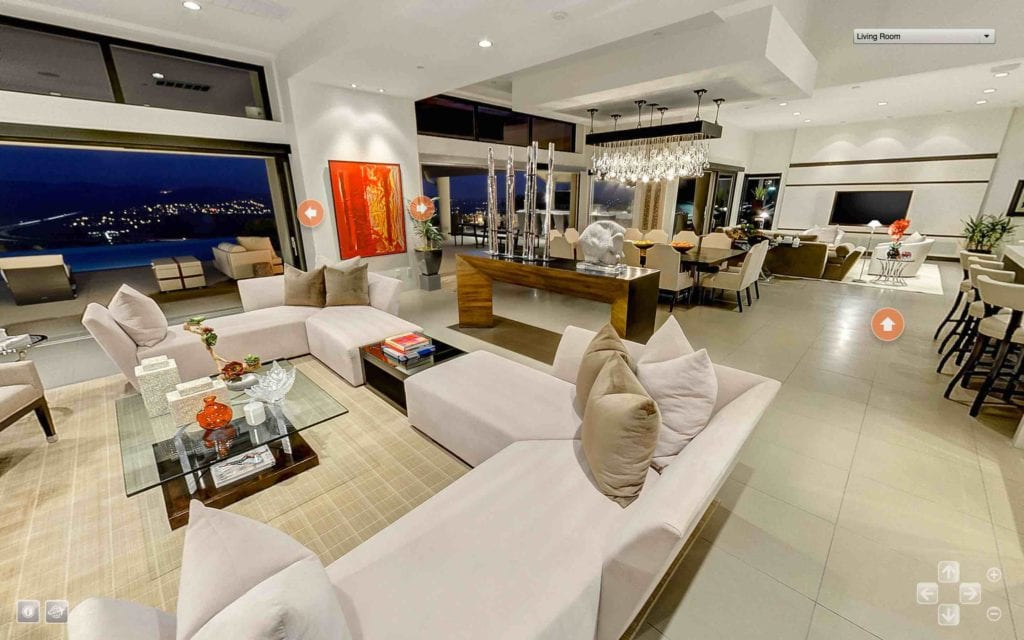 Integrating 360 Virtual Tours onto your online marketing efforts will give your website and brand a clear advantage over the other competitors that are using a more traditional style of marketing. Compared to quality still photography, 360 Virtual Tours will instantly capture the visitor's attention and make your message stand out from the competition.
Unlike an Immersive 3D Tour which is composed by a meshing process which ultimately renders a space into a 3D Tour, a 360 virtual tour on the other hand is a thorough and complete 360-degree by 360-degree view of a physical property.
The end user can literally feel as if they are at a location, without ever physically stepping foot into the establishment. They can look up above them, at the floor below them, left and right, and all around. Additionally, users have the ability to zoom in and out, allowing viewers to focus in on specific areas of interest with a clearer outlook on their focal point.
Each 360 Virtual Tour is created from a variety of photographs, which are 'stitched' together to create a distorted panoramic image. The image is then coded into an online software program that "wraps" the distorted image to create a sphere that looks as if you are actually standing in that location and allows you to move your mouse or smartphone to look around.
Pros:
Higher Image Quality and Sharpness
The quality of a virtual tour is usually determined by the quality of the 360 Virtual Tour Photographer. If the photographer prides themselves in crisp, clean, and sharp photography, then it is most likely that your Virtual Tour will come out the same. Post processing allows for virtual tour photographers to dig into every detail of a panoramic shot in order to fix color correction where needed, and edit the things that are not.
Able to Edit/Retouch Images
In need of a quick fix? Want to add an image to a blank TV screen or projector? An added bonus of having a 360 Virtual Tour is the ability to edit and retouch images whenever needed.
Uses Gyroscope In Mobile Device to Move Around
360 Virtual Tours allow you to use gravity to determine your orientation. Open up a virtual tour on a tablet or smartphone, and move the tour in any direction. As you move with your tablet or smartphone, the Virtual Tour will move with you as well.
Cons:
No 3D or 2D Dollhouse Floor Plan

No Schematic Floor Plan
In Closing
Breathtaking 360 Virtual Tours and Immersive 3D Tours can withstand the test of time and enhance your site visitors' experience, most likely increasing sales, and encouraging people to return to your website, thus increase both traffic to your site and location.
For the latest tech news and trends, Matterport 3D Tour information, Aerial Photography Service updates, 360 Virtual Tour projects, incredible HDR Real Estate Photography images, Architectural Photographer tools and much more, make sure to follow our blog: https://invisionstudio.com/blog/
Tags: