Investors, developers, and builders are scrambling to keep up with the overflow of demand for multifamily housing in just about every metro area in the United States, particularly with rental apartments.
An estimated 351,000 multifamily units were developed in 2014, up almost 14% over 2013 and more than double the nearly 7% growth rate for total housing starts last year,  according to the National Association of Home Builders. Completions in Seattle were at their highest level since 2000. Dallas's 19,000 multifamily unit completions led the nation, with Austin, Texas, and New York City, each with 14,000. Phoenix's 4,900 units might finally make a small dent in a vacancy rate that in 2014 was possibly as low as it had been in close to seven years.
"Condominium demand in Florida, which was virtually nowhere to be seen from 2009 to 2012, is improving, and inventories have been largely absorbed," says Ted Cava, who oversees Gilbane's development and construction activities in the Southeast.
As of mid-September, multifamily made up 3.5% of outstanding bank loans, its highest share since 1992, according to American Banker magazine. About 90% of recent multifamily construction has been rental apartments.
Capital is rushing into this sector in search of rich returns on investment. Through the first 11 months of 2014, Atlanta-based Carroll Organization purchased a dozen multi family properties valued at more than $500 million.
Michael Massie, Executive Vice President of The Picerne Group, a private REIT, says valuations "are taking off" in Southern California, "and that gives us confidence to invest in those markets."
Between March and September, Picerne broke ground on three mid-rise communities with a total of 676 apartments, including the first new multifamily project to be approved in Cerritos, California, in nearly four decades.
Tom Brink, AIA, LEED AP, a Vice President with RTKL, says that developers are demanding much higher densities from apartment buildings. "Apartments as skyscrapers are proving to be serious architecture," says Brink.
He also says there has been a surge in mid-rise districts and neighborhoods requesting new height limits, and far greater use of steel versus wood, to increase heights and densities, as well as to save time and labor. While construction in markets like Chicago, Las Vegas, Raleigh, N.C., and Washington, D.C., have seemed a bit insubstantial as of late, the general agreement among architects, engineers, construction experts, and owners holds that multi-family still has runway, just to keep up with household formation—virtually all of which has come from renters over the past couple of years.
Let's explore five trends that experts consulted by BD+C say are skyrocketing the multifamily market.
Trend #1: Urban Lifestyle
Multi family's ideal targets seem to be Millennials and empty nesters. AvalonBay Communities, an equity REIT, positions its brands to align with these clear demographics:
Its Avalon brand aims at what Matt Birenbaum, the company's EVP of Corporate Strategy, calls "comfort creatures"––renters by choice, mostly in their 30s, who want high-service, high-amenity living. Its "AVA" brand appeals to what Birenbaum calls "young urban socials," mainly Millennials, who will trade space for close-in location and want to live near like-minded people and as close to where "everything happens", as possible.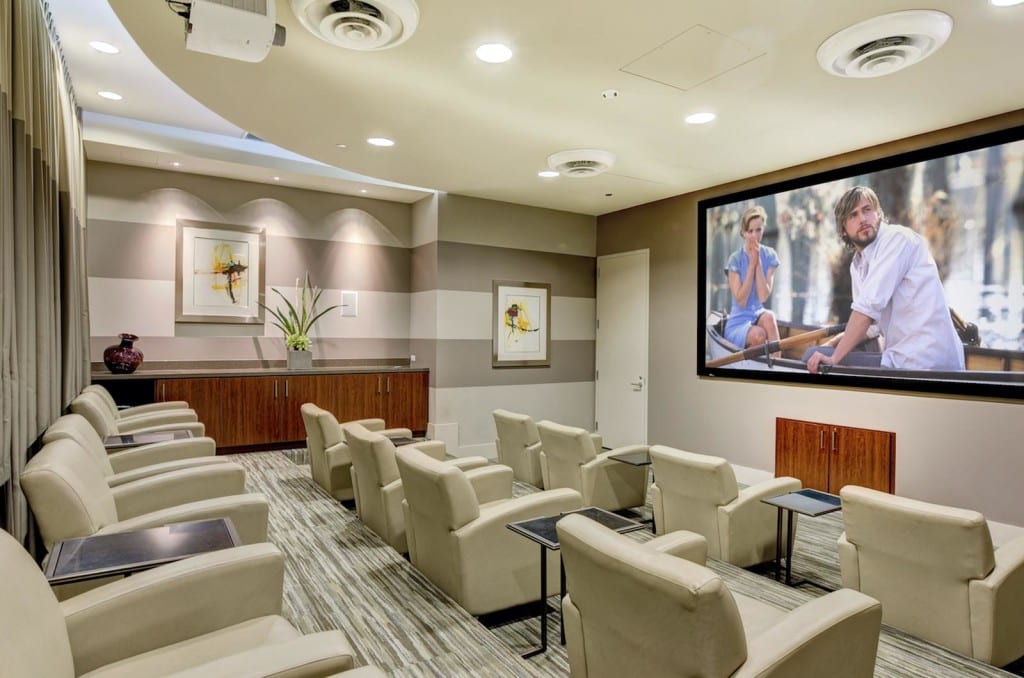 Industry experts think that the common connection between these groups is the desire for a low-maintenance, urban––or at least walkable––experience, enhanced by amenities and technology that create a cooperative live-work-play environment.
"New construction today differs from the past because it's a lot more urban, not only in primary cities but also in places like Denver and Cincinnati," says John Seabee, National Director of Marcus & Millichap's Multifamily Housing Group.
Located in Houston's historic Hines Market Square district is a 32-story luxury tower that is home to 274 residents. A majority of the multifamily units that are being developed in the U.S. are rental units, and much of it is in or near urban centers where both young and older renters and empty nesters are drifting towards.
For many Americans, renting still remains the only affordable way to get anywhere close to the urban core.
"Even on the urban fringe or in the suburbs, renters want the buzz of an urban center." – says Tom Wermers, CEO of San Diego-based developer/contractor Wermers Companies.
Wermers sees more developers leaning toward walkable, transit-oriented projects.
Wendy Dunnam-Tita, AIA, LEED AP, a Principal with architecture/engineering firm Page's Austin office, seconds that notion.
"Public transportation is changing the way people are buying land for projects in Austin," she says. 'More of our clients are emphasizing a sense of community that will make their projects more desirable."
It's a resembling story in Houston, which Scott Ziegler, AIA, Principal with local design firm Ziegler Cooper, says is experiencing something of an urban renaissance. Sperry Van Ness reports that half of Houston's 11,000 multifamily deliveries in 2014 were in urban submarkets. Ziegler Cooper's recent work in that metro includes seven apartment towers, including the 28-story, 361-unit Catalyst in Houston's central business district, features high- and low-rise apartments.
Much of this activity is being powered by renters who crave what Ziegler calls "the 20-minute bubble," where everything they want or need is close by and doesn't require going onto a highway.
Trend #2: Luxury AND Affordability
Many renters may want to live in or close to downtown, but that lifestyle unfortunately doesn't come cheap. A large percentage of prospective renters are in a financially fragile state, and their housing options are narrowing as more and more developers and investors go after deep-pocket tenants.
"Most high-rises being built today are luxury," says Robert Hidey, President, Robert Hidey Architects, Irvine, California, which has worked with most of the big multifamily developers in California.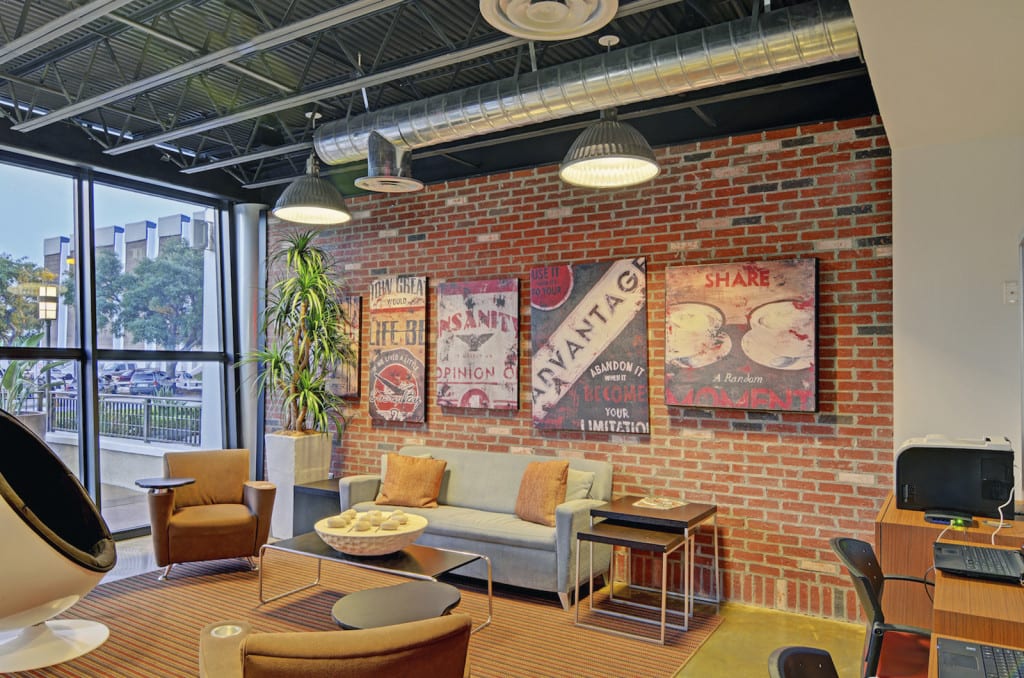 Avalon Bay's 273-unit, 16-floor high-rise, AVA at 55 Ninth in San Francisco, includes enclosed workstations in common areas for residents who require a bit of peace and quiet for their labors. Business centers are now everywhere in modern apartment buildings, which also feature reliable WiFi as part of their live/work offering.
In markets where rental affordability is particularly acute, developers are simply building smaller units. Wermers says that, five years ago, his company's apartments averaged about 1,000 sf; today, they're 8-10% smaller.
One way Page is making smaller apartments more attractive and efficient, says Peter Hoffman, its Senior Design Architect, is by creating multifunctional spaces within the apartment unit known as micro-unit apartments.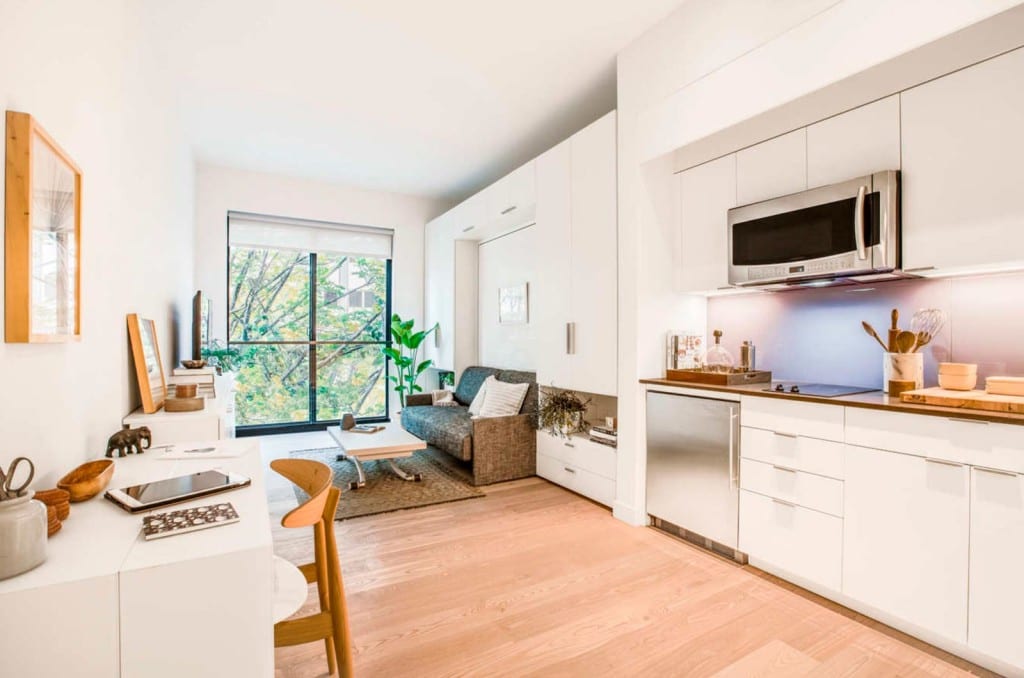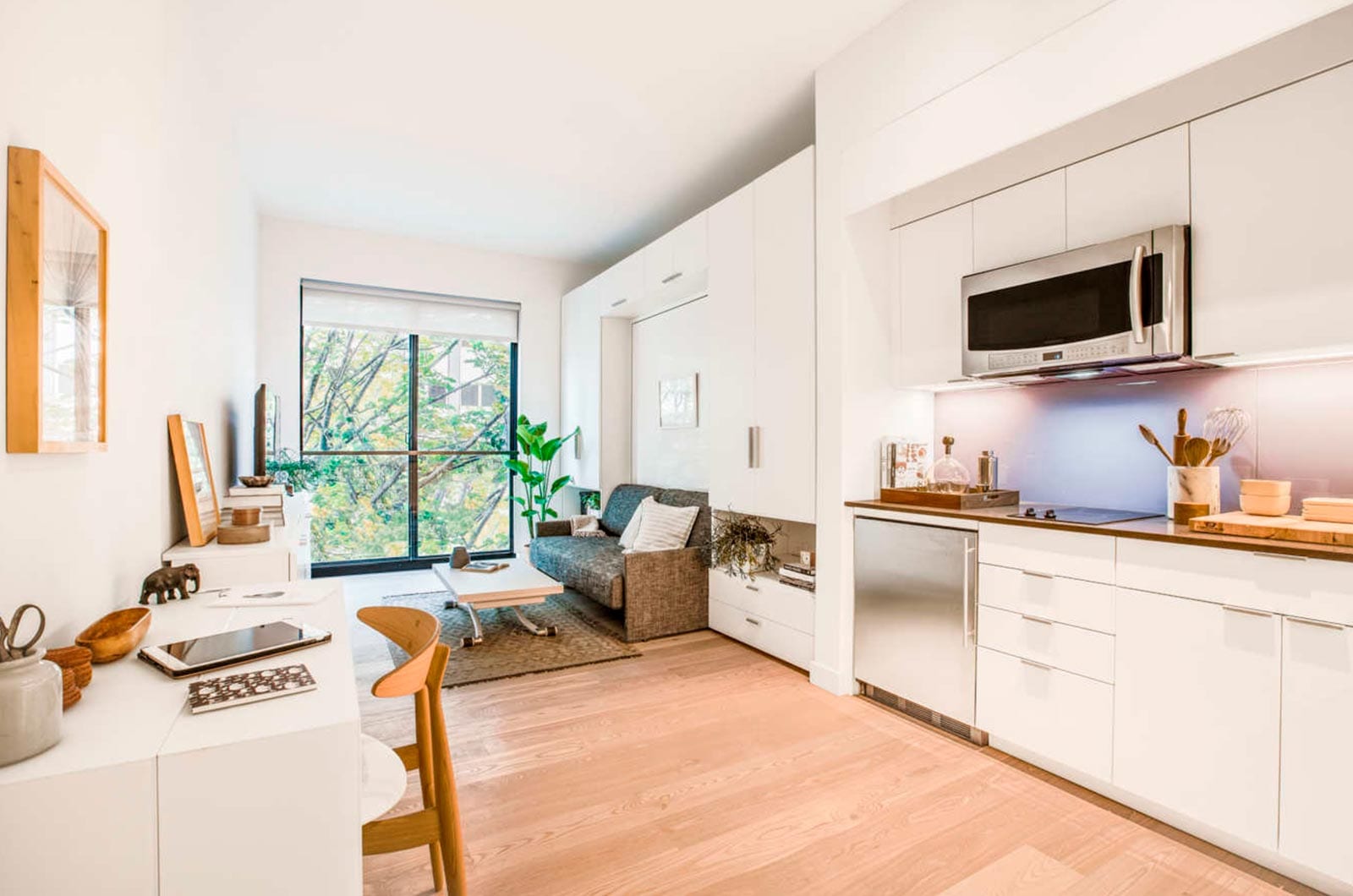 In Houston, Ziegler Cooper has designed micro-units as small as 250-350 sf that are renting for $910 per month, compared to $1,200 to $1,400 for a 565- to 600-sf junior one-bedroom. Ziegler thinks the micro-unit concept works because Millennials don't spend a lot of time in their apartments.
Location is the leading factor influencing people's decision to move into micro-unit apartments, according to a new Urban Land Institute report, "The Macro View of Micro Units" (www.BDCnetwork.com/ULImicrounits), based on an analysis of 400 apartment communities in 35 metros and responses from 3,500 renters. The study found that access to a grocery store ranks as the top priority among people who said they were considering a switch to a micro unit apartment.
"The trend toward smaller units is an attempt to address the affordability issue," adds Sandy Silverman, AIA, Principal, Practice Leader for Mixed Use and Multifamily Residential with Perkins Eastman.
But not everyone is sold on micro-unit apartments. Percelay of Mount Vernon says he has trouble figuring out where the actual savings accumulate for the Building Team.
Marcus & Millichap's Seebee says he's "a little surprised" at how receptive certain markets have been to micro units—they've been given the go-ahead in New York City, San Francisco, and Boston––but doubts they'll catch on nationally because "some communities are concerned about who will be living in these apartments 20 years from now" and whether micro-units will continue to command the rents they're getting today.
Trend #3: Amenities
As apartments are getting smaller, common areas are expanding and are being designed to meet the needs of tenants who want to gather socially or do work there. "Residents, mostly Millennials, use these spaces for socializing with other residents and guests," says Silverman.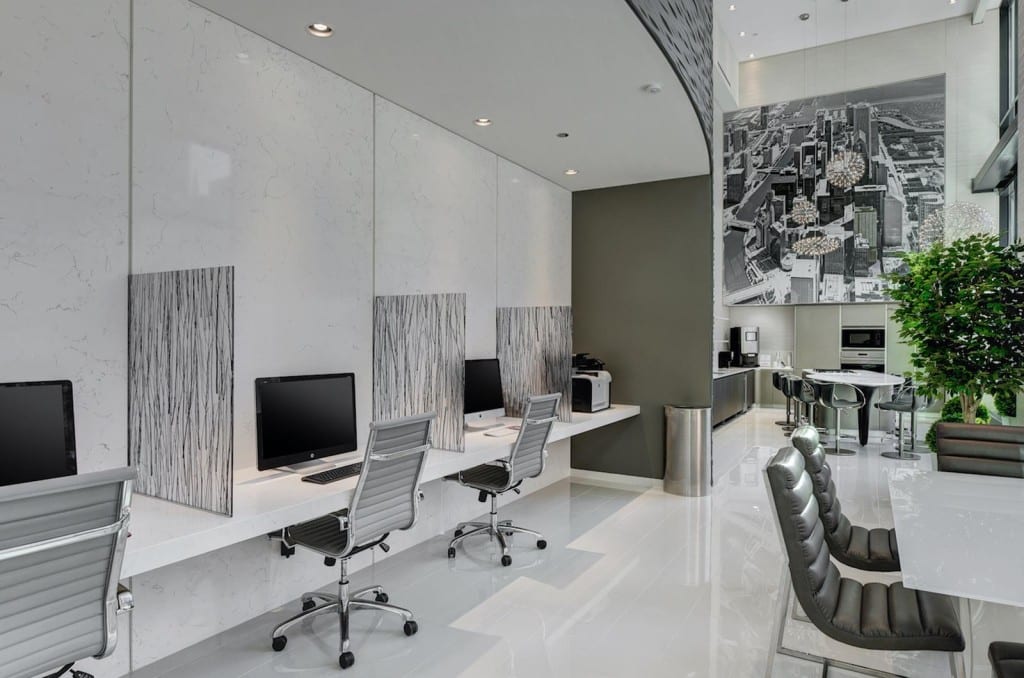 Common areas are being equipped with the technology needed to facilitate these live-work environments. USB ports, dependable WiFi, iCafes, and other Web-access features are now common practice. To withstand greater usage, common areas are being overhauled with more durable furniture and carpeting.
THE LATEST AMENITIES INCLUDE:
Bike storage and repair

Car-sharing service

Child-care service

Concierge

Cooking classes

Dry cleaning/laundry service

Free WiFi

iCafe

Package delivery management

Personal shopper

Pet grooming

Rock-climbing wall

Rooftop terrace

Spa/massage center

Tech/business center

Wine cellar

Yoga/Aerobics/Wellness classes
Common spaces — notably in luxury buildings — are starting to resemble hotels and resorts in their look and feel, and in the services they provide. An apartment building that Balfour Beatty built in Charlotte, N.C., offers tenants cooking classes conducted by chef educators from Johnson and Wales University, which is conveniently located across the street.
Concierges who cater to tenants' every whim are on call at some multifamily communities. The quality of a property's amenities plays a huge role in the clientele it attracts and the rents it can collect.
"The common complaint about amenities is that they're like your grandmother's living room: they're nice to look at, but nobody ever uses them," says Picerne's Massie. "We prefer to install amenities that people actually use."
But tenant demand for more and better amenities has launched a competitive outrage among property owners.
Dry cleaning services

Lofts with office space

And private elevators
Just some of the more obscure amenities finding their way into multifamily communities.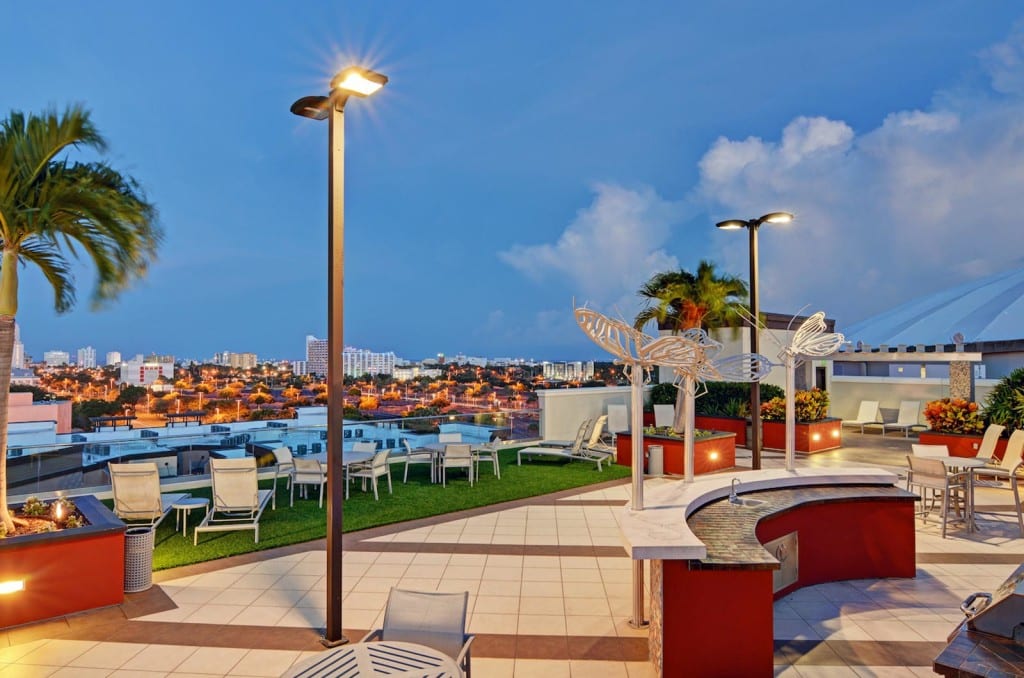 "Rooftop decks and terraces are now must-haves for mid- and high-rise buildings." – says Wermers. 'The trappings of these terraces include comfy seating, sonic sound systems, big-screen TVs, kitchens with barbecue grills and pizza ovens, and even cabanas."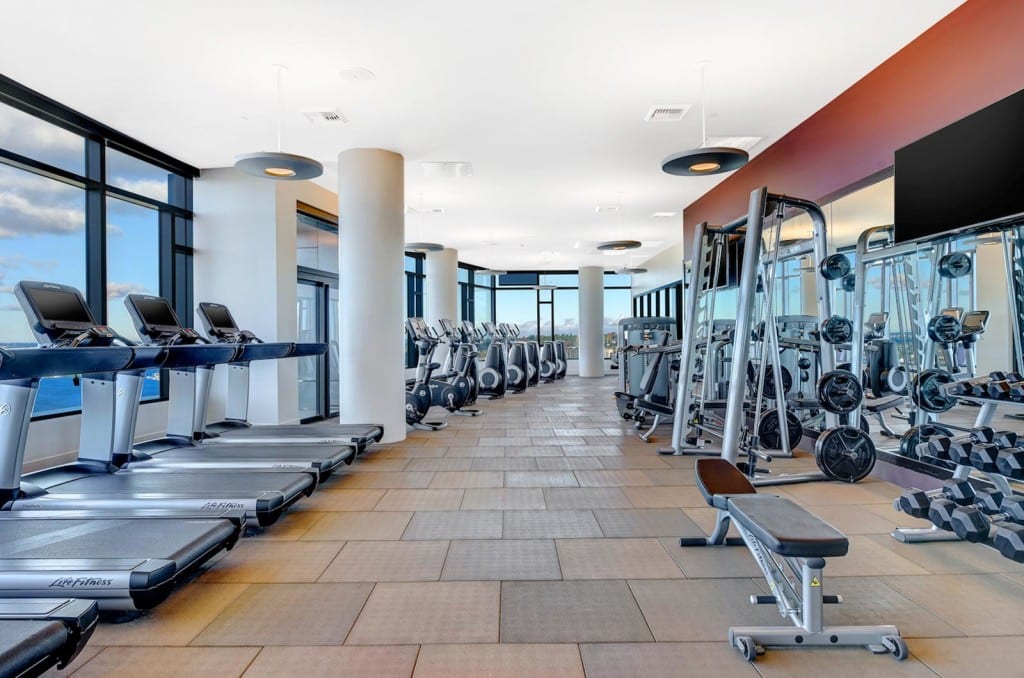 One amenity that's undergone a significant transformation in recent years is the fitness center. No longer just a place to exercise, the fitness center has become the place where tenants gather and socialize. Classes for yoga, aerobics, cardio and strength training, and wellness in general are very much in vogue. While some apartment building owners have chosen to ignore the issue by simply offering tenants passes or discounts to nearby gyms, others have completely remodeled and upgraded their on-site fitness centers.
The quality and number of amenities that a multifamily building offers can often determine its rentability. Some newer amenities that these properties are finding they can't do without are bike rack stations and "pet spas," where residents can groom and exercise their furry friends.
Bike-friendly amenities present new spatial and security problems for architects and contractors: where do you put them, and how do you keep them safe? There can even be regulatory concerns. A recent zoning change in bike-centric Washington, D.C., now requires one bike space for every three new residential units built. "That's quite high compared to the national average," says Silverman.
Pet-friendly buildings are also becoming the regular thing. Pet owners can account for anywhere from 20 to 90% of a building's residents. At minimum, they expect their residential communities to offer animal grooming services and exclusive recreational areas for pets. Wermers Companies' recently renovated Clayton on the Park, an apartment building in St. Louis, adding a pet salon.
In San Diego, Alliance Residential has an agreement with a pet care shop called Hairy and Merry Pet Spa & Dog Wash, which offers a host of grooming, stay, and play services.
Trend #4: Technology

"The holy grail is to customize and personalize services," says Brad Cribbins, COO for Phoenix-based Alliance Residential, one of the country's largest property management companies. He estimates that Alliance tenants pay $850 to $900 a year in amenities fees, but he'd love to see that figure go up to $1,200, $1,500, even $2,000. He concedes that this would not be easy, since most tenants view amenities as entitlements.
Cribbins was a panelist at the National Multifamily Housing Council's OpTech Conference & Exposition in November. Other discussions at that event reflected an ongoing debate about the effectiveness of technology as an amenity and a tool to help tenants and property managers lower their respective operational costs.
Because technology can change so rapidly, Building Teams and building owners are struggling with how to deal with the next wave of innovations. For example, while a growing number of tenants might want Internet TV access, few property owners are ready to cut their buildings' cords from cable or satellite delivery.
The industry is slowly moving toward giving tenants greater command over their environments—from entry doors to HVAC systems. The giant builder/developer Forest City has installed cloud-connected devices in apartment projects in Dallas and Washington, D.C. These devices allow tenants to monitor and regulate their lighting, heating, and cooling, says Mike Smith, Forest City's VP of Technology Service.
One area where building owners and their Building Teams are definitely receptive is technology that enhances a building's sustainability, especially when it comes to attracting green-conscious Millennials.
"Sustainability is becoming an industry standard," says Colin Schless, LEED AP BD+C, CPHC, Senior Project Director for Thornton Tomasetti.
One of the engineering firm's recent projects is an affordable 50-unit apartment building in Portland, Maine, that is being built to Passive House standards, with a very basic HVAC system and 12-inch-thick walls.
Technology might also provide an answer to a problem that is irritating many property managers: how to handle the larger amount of packages cascading into their buildings. Camden Property Trust, which owns and operates 171 buildings with 60,314 units, handled about 750,000 packages in 2014, 50% more than in 2013, says Kristy Simonette, Camden's SVP of Strategic Services. Most apartment buildings don't have the storage space or manpower to handle this load.
Owners and property managers are investigating options that include installing on-premises package lockers.
Last June, Parcel Pending, an Irvine, California – based startup, installed its first smart lockers in a test with Shea Properties. When a package is delivered, it is placed in a locker; the tenant is sent a text message and email with a unique six-digit access code to open the locker. Lori Torres, Parcel Pending's CEO, says her lockers are "courier agnostic." She calculates that a 300-unit apartment building would need about 50 lockers. The property manager would decide how long to hold a package, and how much, if anything, the tenant would be charged for the service.
Trend #5: Green Leases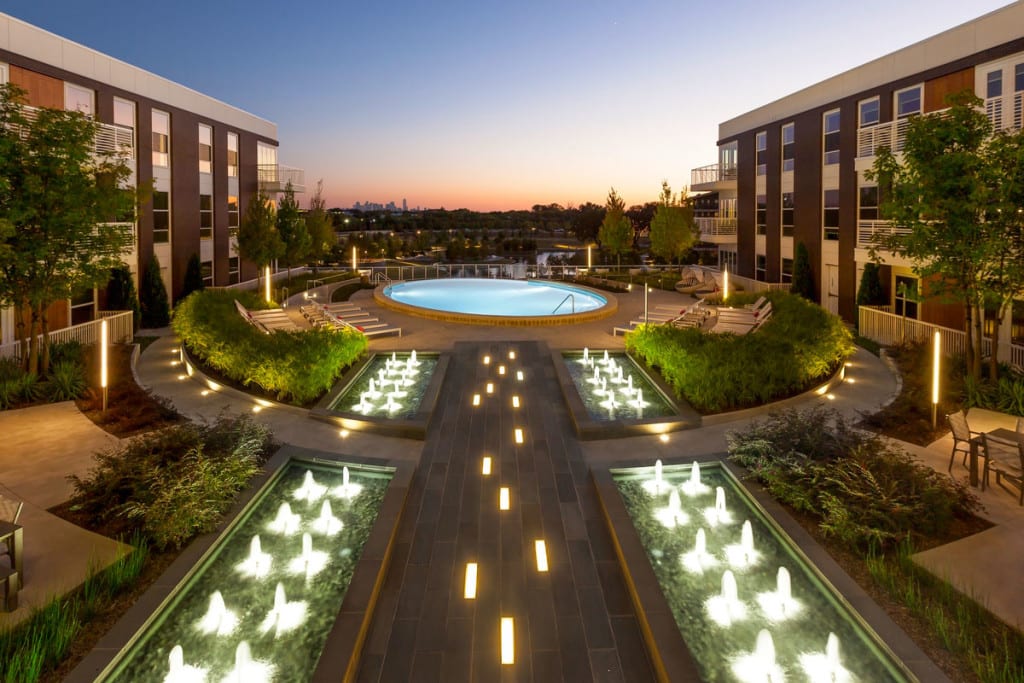 In October, the last of three new buildings opened in the eight-building Green District in Boston's Allston neighborhood. The district's 500 apartments, ranging from 600 to 1,150 sf, have been leasing from $1,800 to $3,200 a month, or 30-50% below other developments in the surrounding area, placing them among Boston's most affordable living options.
They're also among the most energy-efficient apartment complexes in the area. Two of the new wood-framed buildings are certified LEED for Homes Platinum, one Gold. The Edge, one of the LEED Platinums, is a four-story building with 79 loft-style apartments. It has a white-painted, highly reflective roof with solar panels, floor-to-ceiling windows, electric-car charging stations, on-premise Zipcars, and bike storage. Its envelope was designed with a thermal barrier, high-performance glazing, soy-based insulation, and an energy-efficient mechanical system with high-performance monitoring and controls.
Tenants living in one of the eight buildings in The Green District, in Allston, Mass., are required to sign "green" leases, in which they agree to sustainable practices such as composting and using nearby public transportation. The developer, The Mount Vernon Company, attributes the accelerated leasing these buildings have had success with, to sustainable marketing.
None of that would mean much if residents weren't equally committed to sustainable living. "If you have a high-performance building but a low-performance tenant, what's the point?" asks David Chilinski, AIA, Co-founder and President of Prellwitz Chilinski Associates, the project architect.
So tenants are required to sign a "green lease," which the city of Boston created in order for this project to get its green-district designation. By signing that lease, tenants agree to follow sustainable lifestyle routines, such as recycling, composting, and using nearby public transportation.
Bruce Percelay, Chair of The Mount Vernon Company, the project's developer, says the buildings' common areas include in-wall hydration stations that dispense purified water. Each tenant is issued a water bottle to use at those stations to reduce the need to dispose of plastic bottles.
This is one of the few multifamily communities in the Boston market that meters each apartment's water intake. Perceley claims that has helped reduce water consumption by 40%. Each unit also has its own HVAC system, which gives tenants more control over their energy use..
Every new unit was preleased before it was completed, says Perceley. He's convinced that building green makes "a big difference" in attracting tenants. "It also changes tenant's perception of the landlord" in a positive way, he says.
Perceley doesn't think "green" translates into premium rents so much as it accelerates the leasing process. But he doesn't have to pitch his clients on green anymore. "They're in the game," he says. "They aren't looking to me for leadership."
Conclusion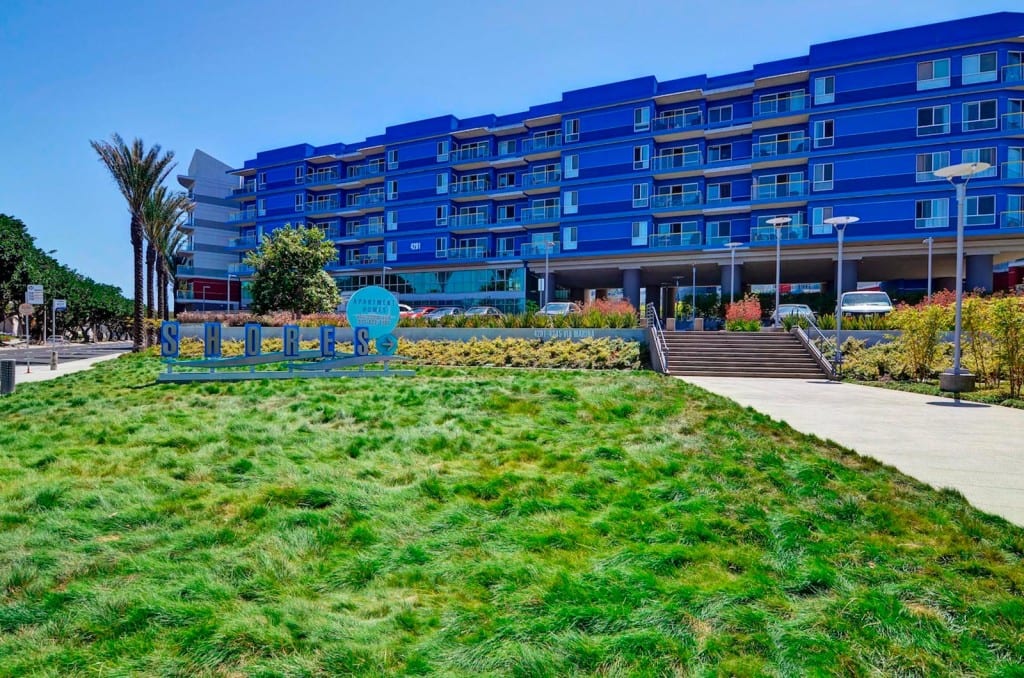 Preferences for multifamily living remains strong, but will they last? While Lend Lease's Jeff Arfsten, COO and Managing Director of Project Management and Construction-Americas, anticipates an eventual swing back to
Homeownership –– assuming rents keep escalating and banks and the federal government ease restrictions on mortgage lending –– that shift could take a while, if current trends are any indication. .
Nevertheless, industry sources continue to point to economic, demographic, and cultural factors that they believe will energize multifamily demand for several years.
For the latest tech news and trends, Matterport 3D Tour information, Aerial Photography Service updates, 360 Virtual Tour projects, incredible HDR Real Estate Photography images, Architectural Photographer tools and much more, make sure to follow our blog:https://invisionstudio.com/blog/
Tags: