In the Real Estate world of today, technology is one of the most important tools used to sell a property. Of those technology tools, a Real Estate Virtual Tour is one of the newest and most critical keys to selling a property lightening fast.
With 97% of all prospective buyers begin their real estate search online; it is critical that a first impression is made. Virtual Tours For Real Estate are without a doubt the best way that a listing can make a lasting impression on the viewer and rocket a property to the top of the prospective buyers list.
Brokerages and Real Estate Agents have been using Virtual Tours for about 20 years now, but some major improvements have been made in the Virtual Tour world over that period of time. What once began as a simple slide show of Real Estate Photos has transformed into a full immersive experience through the adoption 360 Degree Technology to allow viewers to walk through the home online and look around just like they were there in person. Like any other product, the 360 Tours were adopted, renovated, and then perfected. Here's a quick look at stages in the evolution of 360 Virtual Tours for Real Estate: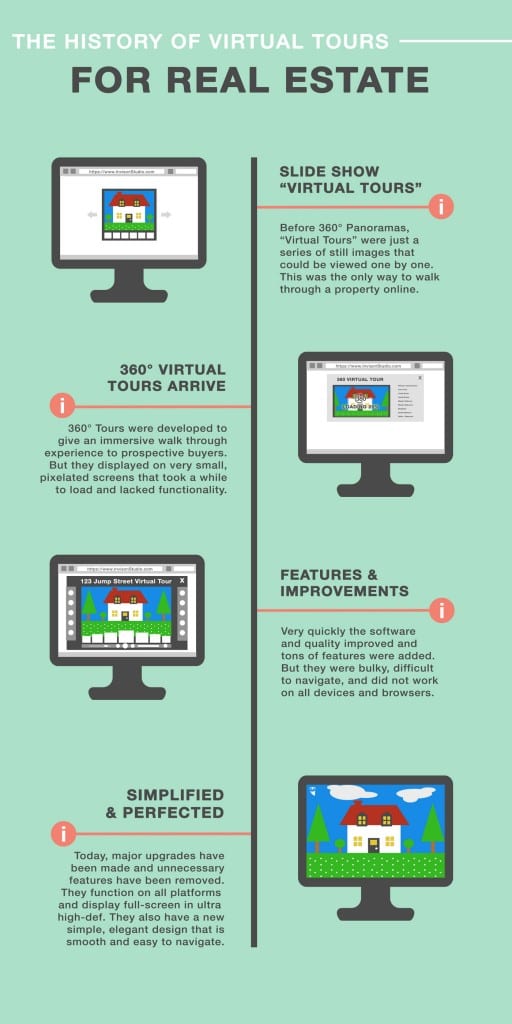 1. The beginning, Slide Show "Virtual Tours"
Before 360 Technology was ever heard of, before Google maps gave us the first glimpse the commercial use of 360 Views, and before we had phones that we could view them on; Slide Shows we're what every Broker or Real Estate Agent knew as a Virtual Tour. There was Real Estate Photography and Real Estate Video, nothing else.
Virtual Tours were simply a series of Still Images of a Real Estate Listing strung together into a slide show. You could click arrows to scroll back and forth through the architectural photography, and that was it. That was the "Virtual Walkthrough" that viewers got to experience.
But it was the 90's, and that was a big step up from looking in the newspaper and magazines, seeing one photo, and having to drive to each home to see the rest. But what was next, how could it get even better?
2. The Arrival of 360° Virtual Tour Photography
Yes, we said photography. 360° Technology is actually a series of distorted photos "stitched" together to create a spherical image. Next they are loaded into special software that allows viewers to stand inside the "sphere" and look around.
These days, you can actually look up, down and all around, but the first 360 Virtual Tours were technically 360 Panoramic Tours. You It was just a long panorama wrapped around like a ribbon so the viewer could look around 360 Degrees but not look up or down.
To top it off, the panoramas displayed on tiny screens that could not be enlarged and the panoramic image was extremely low quality and pixelated. They took about 2 long minutes to load and spun around so quickly the viewer would get dizzy.Also, most 360 Pano Tours were run on Java so they would only work on certain browsers and not on any phones or other devices. One of the main complaints was that they lacked tour features that could improve the 360 experience, so the virtual tour software companies went to work.
3. Virtual Tour Companies Make Some Major Improvements.
Each Virtual Tour Software Company had their own take on the 360 Tour Experience, but one thing was clear, they wanted to add every feature imaginable. The 360 Viewer Interface became so bulky that the audience would get overloaded with features. Maps, floor plans, hotspot arrows, picture boxes, info boxes, tour maps, music, previews, descriptions, custom buttons, menus and tons of extra add-ons that for the most part, weren't necessary.
They became so complicated that the Realtors couldn't even navigate the tours on their own listings. There was so much focus towards adding on all the extras that there was little attention paid to functionality and ability to work across platforms and devices. It was clear that the Virtual Tour Interface needed to be simplified and optimized in order for it to remain a critical tour in the Real Estate Marketing process.
4. Virtual Tours For Real Estate Are Simplified and Perfected
After a bit of trail and error, the Virtual tour company Invision Studio and some others stripped down their product a bit and focused on simplifying the interface to work best to display homes and sell Real Estate properties. They cleaned everything up so that only the features that were necessary were displayed and every Broker and Realtor rejoiced.
The improvements in 360 Cameras and Virtual Tour Photography allowed for the software to display the tours in ultra High-Definition on a Full Screen virtual tour viewer. Most notably, the software was migrated to run through HTML 5 so that they would work seamlessly with every device and browser on the planet. Though there are still some Virtual Tour Software Providers playing catch-up, the overall Real Estate Virtual Tour experience has been near perfected and is known to be one of the most valuable tools to selling Real Estate listings today.
Tags: